If you've ever found $10 in the streets, you can consider yourself lucky. However, if you come across a wallet, that's a different story–especially if a found wallet comes with cash, credit cards, and other valuable contents.
The right thing to do is to keep it safe for the time being because when the information gets into the wrong hands, the owner might fall victim to various fraudulent activities, including identity theft.
Your next goal, however, is to return the lost wallet to the owner–but how exactly can you do that?
Because we'll likely do the same, we've searched the web for reputable sources on identity theft and the right thing to do with lost but found wallets.
We've discovered the MOST common mistake people make when they find a lost wallet and want to return it. So keep reading until the end and don't miss out on learning this because a single mistake can do more harm than help the owner find their wallet back.
You've found a lost wallet: What now?
When you find a lost wallet, it's paramount that you know what to do. Leaving it as it is can compromise the owner's security, especially if the wallet contains credit cards, IDs, social security numbers, and other valuable information criminals want to steal. 
If you've ever been in this situation, you can't rely on someone's good nature to return it. It's important to have a 'data safety net' that will protect you if everything goes wrong, because you definitely don't want anyone stealing your identity or finances!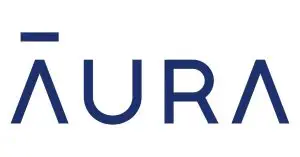 That's what Aura is here to help with. They will:
Make sure your SSN, credit cards or personal info isn't being used maliciously.
Ensure you can get your identity back fast without your finances being impacted (you're covered for up to $1M) if the worst should happen.
Provide you with data protection tools including a password manager, antivirus software and VPN .
Don't wait for potential identity theft to become a problem. Be proactive about your safety today.
How many wallets are lost each year, you may wonder? According to a survey conducted by Pixie, 20% of wallets and purses are lost in the United States each year.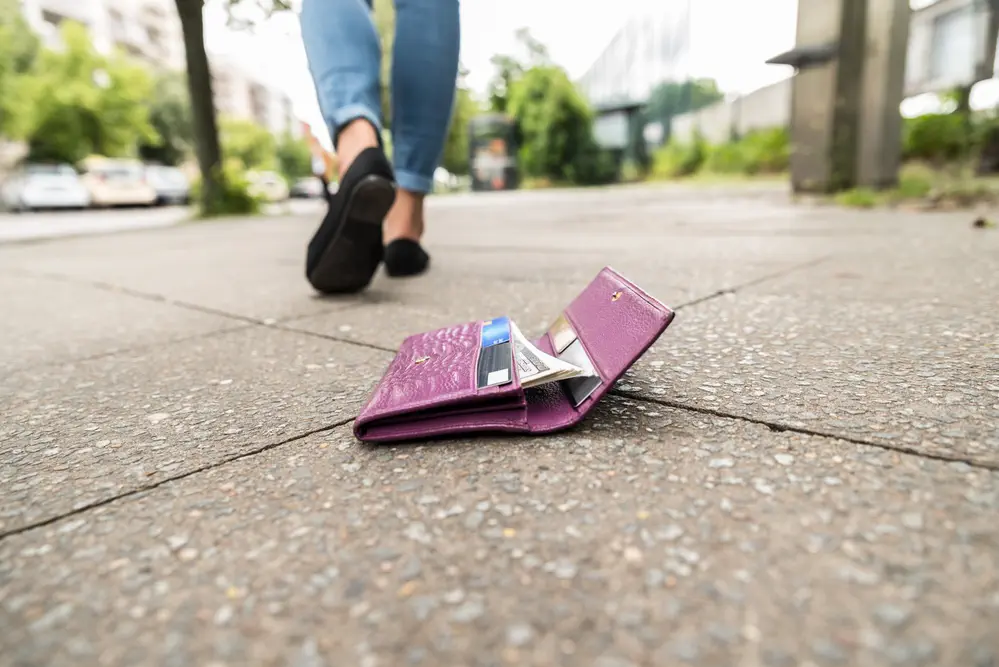 If you come across one during the day, here are some of the best things you can do:
Wait for the owner in the area
The first thing you can do when you find a wallet is to simply wait for the owner. They'll likely realize their wallet is gone at some point and will go back to check where they could have lost it.
With a little patience and time, you can wait for them to return to the same spot. If you don't have time to wait, however, you can leave a short note in the area with your non-sensitive contact details, preferably your email address.
Try to locate contact information inside the wallet
As soon as you pick up a lost wallet, search it for any information about the owner. This could be a credit card, ID, driving license, business card, and so on, so long as you find their names.
You can easily ship the wallet over to their home or perhaps contact the actual owner via social media, email, or phone.
If you only find credit cards, contact the respective bank and ask for their help. Explain the situation as carefully as possible, though, as they might not give customer information.
Ask to see camera footage to identify the owner
This one asks for more patience and time from you, but you can always ask for the security's help. Go to nearby security for help, where you can request to view the surveillance footage to identify the owner.
Remember that you might through a series of questioning, though, to keep a record of the incident. Other than that, you should be good to go.
Avoid posting it on social media
Social media is a powerful tool for connection and can certainly be effective enough to help you locate someone you don't know. Unfortunately, it isn't always as safe as we want it to be.
If you want to get in touch with the possible owner, you can look their name up on sites like Facebook and message them privately. However, this isn't advisable if you want to remain anonymous and stay out of trouble.
You also can't verify if the person on the other end of the screen is indeed the owner. You also risk exposing the owner's data online, even if you only show parts of an ID, driver's license, or credit card.
Place it in a mailbox
Leaving a wallet in a mailbox is also a safe route, as the USPS can ensure the wallet reaches its owner safe and sound. So long as it has identifying documents available, the post office will mail the lost wallet to the owner free of charge.
Is it possible to ship wallets with their contents?
Shipping a wallet is generally safe with the USPS mailbox. However, it only works if the wallet contains identifying information.
Other mailers won't accept wallets if they contain cash or credit cards. If you can contact the owner, consider transferring the money via a bank account or digital wallet. In return, you get to keep the same amount in cash.
Hand it over to law enforcement
If you've tried everything to locate the owner, you can go to the nearest police station and hand it over to the officers. Doing so can keep the owner out of legal trouble.
But what do police do with lost wallets? Usually, they'll record it, note some information about you, and store it until they locate the owner.
Avoid returning it to a local establishment
When you find a lost wallet, your first instinct is to likely leave it where you found it, or perhaps in the nearest establishment. But this is the most common mistake people make when they find a lost wallet.
Although the intention is good, remember that you're ultimately handing valuable information to another stranger who may not share your morals.
Not everyone is trustworthy or comes with good intentions. The best thing you can do is leave your contact details in a note, allowing the owner to track you when they come back for their wallet.
Keeping lost property: Is it illegal?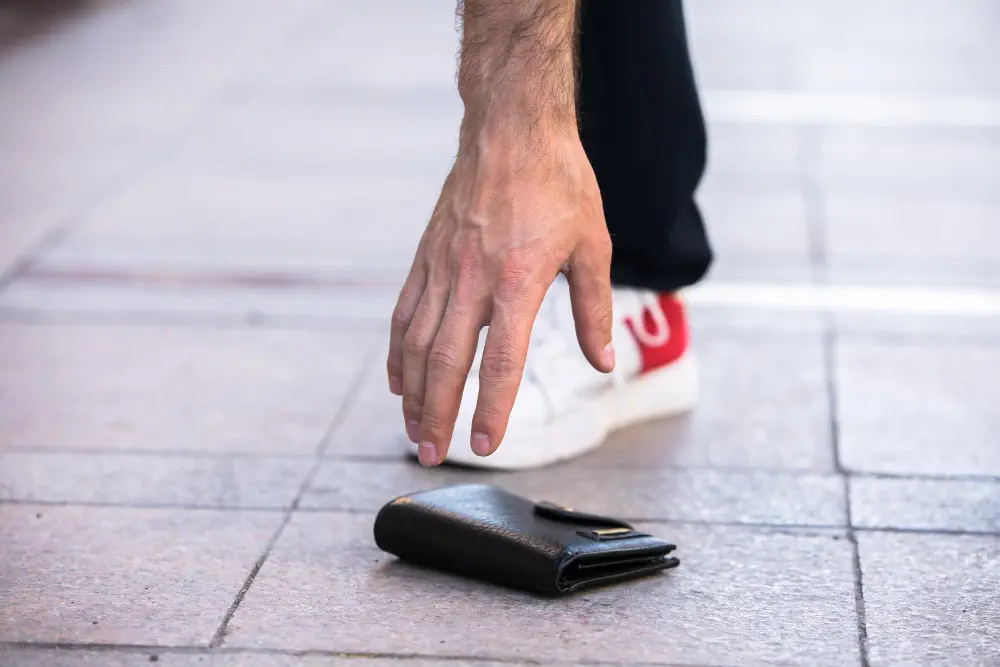 According to Common Law, a lost personal property's ownership continues to apply to its true owner, such as a wallet that someone has left. A person who found lost property can keep it until the rightful owner comes looking for it.
The best thing to do is return the wallet to the rightful owner, especially if you find important content like driver's licenses, social security numbers, credit cards, etc.
It's also paramount to remember that while the Common Law exists, some states require you to turn over lost property to law enforcement. Other laws, however, obligate you to create post notices in local newspapers.
On our end, it's better to return lost things, particularly wallets, to their rightful owners. Although it's not really illegal to keep it, you'll be thankful if someone does the same for you!
In the event that they don't, you'll definitely want to be protected. Identity theft can cause more damage than financial, it can also ruin your credit score, get you in legal hot water, give you a criminal record, make it difficult to get a job or housing and more.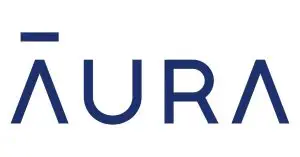 Better to be safe than sorry with Aura's protection. They're an all-in-one service that:
Ensures your important data and ID aren't being sold on the dark web or used in harmful ways.
Alerts you to potential dangers and breaches, as well as dedicates an account manager to assist you in retrieving your identity and stopping criminals in their tracks.
Provides you with up to $1 million in identity theft insurance so your financial position will be safe .
Don't leave your data safety to chance. Sign up with Aura in just minutes:
Conclusion
Just thinking about your wallet ending up in the lost and found section of some establishment can send chills down your spine—it certainly does for us. We just have so much content to lose inside, and most of them can be difficult to replace. From driver's licenses to cash, you'd want someone with a good heart to return your wallet to you.
More importantly, you want your personal information safe at all times. The next time you find a wallet on your way somewhere, remember this guide. A little bit of kindness can never hurt.