We deal with lots of paperwork. We receive, send, and store various documents, from business reports to credit card bills.
Many of these contain private information, called personally identifiable information (PII). So, you can't just throw these documents in the trash.
Here's where shredders come in.
They cut paper sheets into thousands of fine rectangular strips or particles, preventing crooks from misusing your old documents.
That's a smart move. However, which one should you get?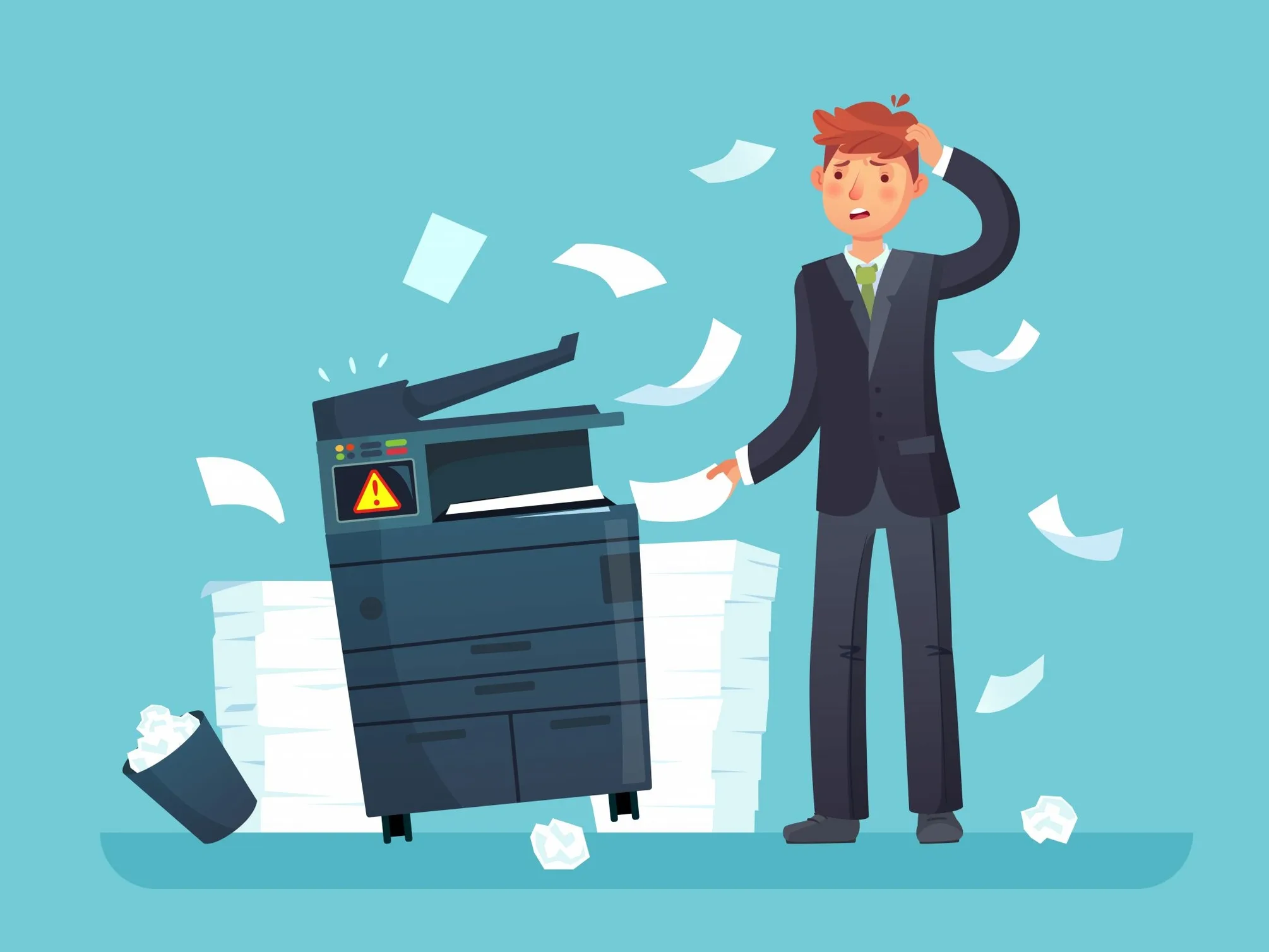 Finding a reliable, secure document shredder is harder than you might think. Cheap, low-quality ones don't shred documents properly, so experienced criminals might still connect the torn pieces together.
This guide will help you find the ideal unit. Our team researched real user testimonials, independent review sites, and official product sites to gain insights into the best, most secure paper shredders.
Please read without skipping because we'll also talk about paper shredding services and digital shredder programs. We'll tell you the most common yet damaging mistake people commit when hiring security shredding companies—which could further compromise your PII.
Let's explore the best, most secure document shredders!
4 secure paper shredders for personal and business use
When shopping for paper shredders, please understand that not all units are equal. Avoid blindly buying the first cheap option you see.
Yes, shredders perform the same function: shred. However, quality units with excellent security ratings and higher shredding capacities provide top-notch privacy. They cut documents into millions of micro-cut pieces.
Based on our research, we found that the following paper shredders perform the best:
Best For: Overall best option for personal and home office shredding
Security Rating: P4, micro-cut
Price: $133.60
The 12-Sheet, Micro-Cut Shredder by Amazon Basics stands as one of the top-selling shredders on Amazon.
It has micro-cut blades with a P4 security rating, plus it can shred 12 sheets of A4 paper for 10 minutes straight. You can use it for both personal and home office shredding.
Some noteworthy features of the 12-Sheet, Micro-Cut Shredder by Amazon Basics include the following:
Plastic Shredding: The shredder's fine, sharp blades tear through plastic materials like CDs, credit cards, and old ID cards.
Thermal Protection: The machine automatically turns off after a 10-minute runtime, thus eliminating the risk of overheating. Note that its cooldown lasts 40 minutes.
Reverse Functionality: Prevent paper jams by retracting partially shredded sheets, although you won't use this feature too often if you stay within the 12-sheet limit.
Amazon Basics also sells the same micro-cut shredder in 6-sheet, 8-sheet, 12-sheet, 17-sheet, and 150-sheet variants.
What users say about 12-Sheet, Micro-Cut Shredder by Amazon Basics
Users like the 12-Sheet, Micro-Cut Shredder for its overall functionality. It costs less than most paper shredders but already has micro-cut plastic and 12-sheet paper shredding.
Also, the unit is quite reliable. We read reviews stating their shredders still run well even after a year or two of daily usage.
However, there were some complaints regarding the repairs and maintenance. This model doesn't have many replacement parts available.
Why we recommend 12-Sheet, Micro-Cut Shredder by Amazon Basics
If you need a secure shredder for your home office, we highly recommend the 12-Sheet, Micro-Cut Shredder by Amazon Basics. It can tear through anything, from thick contracts to confidential CDs.
However, look into other shredders if you need one that you can share with more than three people. Again, the machine automatically shuts off for 40 minutes after 10 minutes of shredding.
Best For: Users who want a less expensive shredder
Security Rating: P3, cross-cut
Price: $44.42
If the other shredders we mentioned are out of your budget, try the Cross-Cut Paper Shredder by Amazon Basics. It stands as one of the most adorable and accessible home shredders.
But don't worry—this shredder didn't sacrifice security for affordability. Despite its low price tag, it still offers cross-cut shredding with a P3 security rating.
Some features that make the Cross-Cut Paper Shredder by Amazon Basics one of the best home shredders include the:
8-Sheet Feeder: The shredder can accommodate eight A4 paper sheets at a time. If you run the machine nonstop for three minutes, you should tear through at least two to four sets.
Versatile Shredder: Its sharp, fine blades can easily tear through paper clips, credit cards, and staples.
Easy Start: The shredder automatically starts running once its paper or plastic entry detects something. Leave the machine plugged into an outlet. It will also cool down after running for three minutes straight.
You can get the same model in its 6-sheet, 12-sheet, 15-sheet, or 24-sheet model.
What users say about Cross-Cut Paper Shredder by Amazon Basics
Users like Cross-Cut Paper Shredder by Amazon Basics for its simplicity. It's affordable, and it gets the job done.
However, we generally discourage feeding the machine discs. Based on the reviews we read, the shredder malfunctions with larger plastic materials.
Why we recommend Cross-Cut Paper Shredder by Amazon Basics
The Cross-Cut Paper Shredder by Amazon Basics is an affordable, reliable personal shredder. You'd be hard-pressed to find another P3 cross-cut shredder within the same price range that cuts through plastic materials.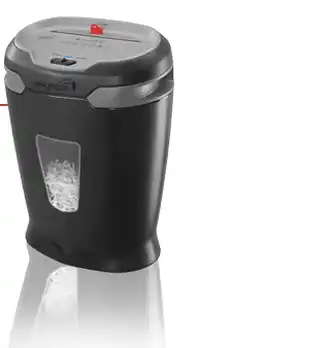 photo credit to staples.com
Best For: Users who need a fast shredder
Security Rating: P4, cross-cut
Price: Upon request
The 12-Sheet High-Speed Cross-Cut Shredder by Staples is one of the swiftest shredders available. It tears through paper like it's butter.
It also has a P4 security rating despite being a cross-cut shredder. Although it has a larger cut size than a micro-cut shredder, you can rest assured that identity thieves still can't make anything out of the scraps.
Some of the shredder's features that stood out include the following:
V-Track Blade Technology: The shredder's patented V-Track blade technology lets it swiftly cut through 12 sheets of A4 paper. You can shred dozens of sheets in just six minutes.
CD Shredding: You can use it to shred CDs and DVDs, although refrain from shredding thick plastic materials like credit cards and ID cards.
Quiet Shredding: Staples utilized its swift V-Track blades to produce relatively low noise levels, even when shredding plastic materials.
If your 12-Sheet High-Speed Cross-Cut Shredder malfunctions, you can bring it back to staples for repairs. It has a one-year service warranty.
What users say about 12-Sheet High-Speed Cross-Cut Shredder by Staples
Users are generally satisfied with the shredder's speed. As it promises, it shreds 14 feet of paper every minute, so it should finish about 60to 80 sheets of A4 paper in six minutes.
However, many users only shred six sheets at a time. Although the shredder has a 12-sheet load capacity, consistently maximizing the limit causes jamming.
Why we recommend 12-Sheet High-Speed Cross-Cut Shredder by Staples
We like the 12-Sheet High-Speed Cross-Cut Shredder for its accuracy. Many "fast" shredders do a terrible job at shredding because they compromise quality for speed.
However, that's not the case with this cross-cut shredder. It stays true to its security rating and ensures that every sheet it shreds gets torn to thousands of pieces.
Best For: Users who need an office shredder
Security Rating: P4, cross-cut
Price: $234.99
If you need an industrial-level shredder for your office, try the EverShred C149-C by Bonsaii. It has a 60-minute runtime, 10-minute cooldown, and 18-sheet capacity.
Apart from the functionality of the EverShred C149-C, it also meets the minimum shredding level required in most industries. It's a cross-cut shredder with a P4 rating.
Some noteworthy features of the EverShred C149-C include the following:
Patented Cooling System: Bonsaii uses a patented cooling system that lets the shredder safely run for an hour straight. You won't have to worry about overheating.
Library-Quiet Motor: It only produces 62 dB when shredding. You can confidently run the machine without disturbing the people around you.
Portable Design: The machine has four brake-enabled caster wheels, so you can move it around the office as needed.
If you need a cheaper alternative, you can try the larger cross-cut shredder variant of the C149-C. It has a 24-sheet capacity, runs for 60 minutes, and costs $314.49.
What users say about EverShred C149-C by Bonsaii
The EverShred C149-C serves as a reliable office shredder. You can use it to shred stacks of paper for hours on end without worrying about overheating.
Perhaps the most common complaint about the EverShred C149-C is that it doesn't stand the test of time. Many users expressed that their shredders broke down after three to four years.
However, bear in mind that the EverShred C149-C is relatively cheap. Even if it malfunctions after a few years, you would've already gotten a return on your investment.
Why we recommend EverShred C149-C by Bonsaii
We like the EverShred C149-C for its functionality. Very few shredders within the same price range offer the same level of security and load capacity.
Also, its low noise level is appealing. Trust us—you wouldn't want to run a noisy shredder in a quiet, professional office setting.
5 secure, reliable data erasing programs
Paper shredders destroy physical documents, but don't forget that you should also properly dispose of digital files.
Contrary to popular belief, deleting doesn't lead to permanent deletion. It only frees up the data storage space the previous file took, which means the file still exists until a new one takes its place.
You can even use third-party apps to recover old documents. Unfortunately, hackers also misuse the same programs to extract PII in supposedly deleted files.
To eliminate digital files permanently, look into the following data erasing apps: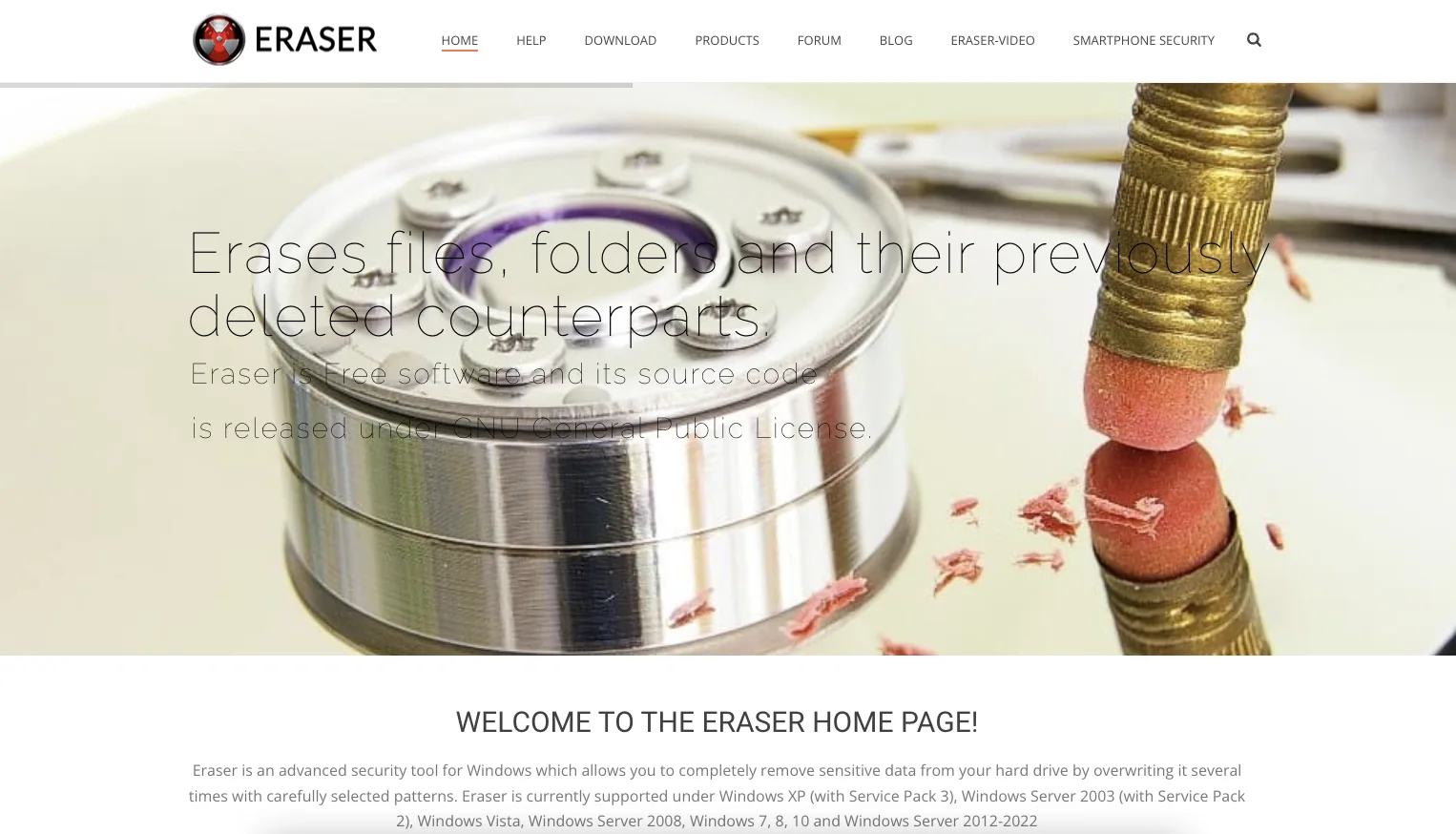 Rating: Provides the highest level of security and privacy
Eraser stands as one of the most widely known digital file shredding programs. It launched the first beta program in 2010, which was updated twice or thrice a year in the past decade.
Some key features that set Eraser apart from the competition include its:
Multiple Sanitization Techniques: Although Gutmann is the default data sanitization method, you can try 12 other erasure techniques like DoD 5220.22-M, AR 380-19, and VSITR.
Versatile Deletion System: Eraser utilizes a versatile deletion system compatible with various files, from Word documents to hard disk drives.
Reliable Scheduling Tool: Many file shredders have scheduling tools, but none is more accurate than what Eraser uses. It guarantees on-time file deletion.
Eraser runs on any Windows versions as old as XP. However, certain in-program features like the multiple sanitization methods require an updated OS.
What users say about Eraser
Tech-savvy individuals trust Eraser for its functionality and versatility. It lets you delete any file using whatever data sanitization method you want.
Moreover, the developers frequently release updated versions. Although you won't find a new feature with every update, you can at least expect fewer bugs or glitches.
Perhaps the most common, reasonable user complaint involves Eraser's deletion speed. Most of its sanitization methods take hours to run.
Admittedly, waiting too long is annoying. But the program only runs so slowly because it overwrites your files multiple times—increasing security.
Why we recommend Eraser
If you consider yourself technologically adept, check out Eraser. Although it offers several functional features and tools, you'll need technical experience to utilize them.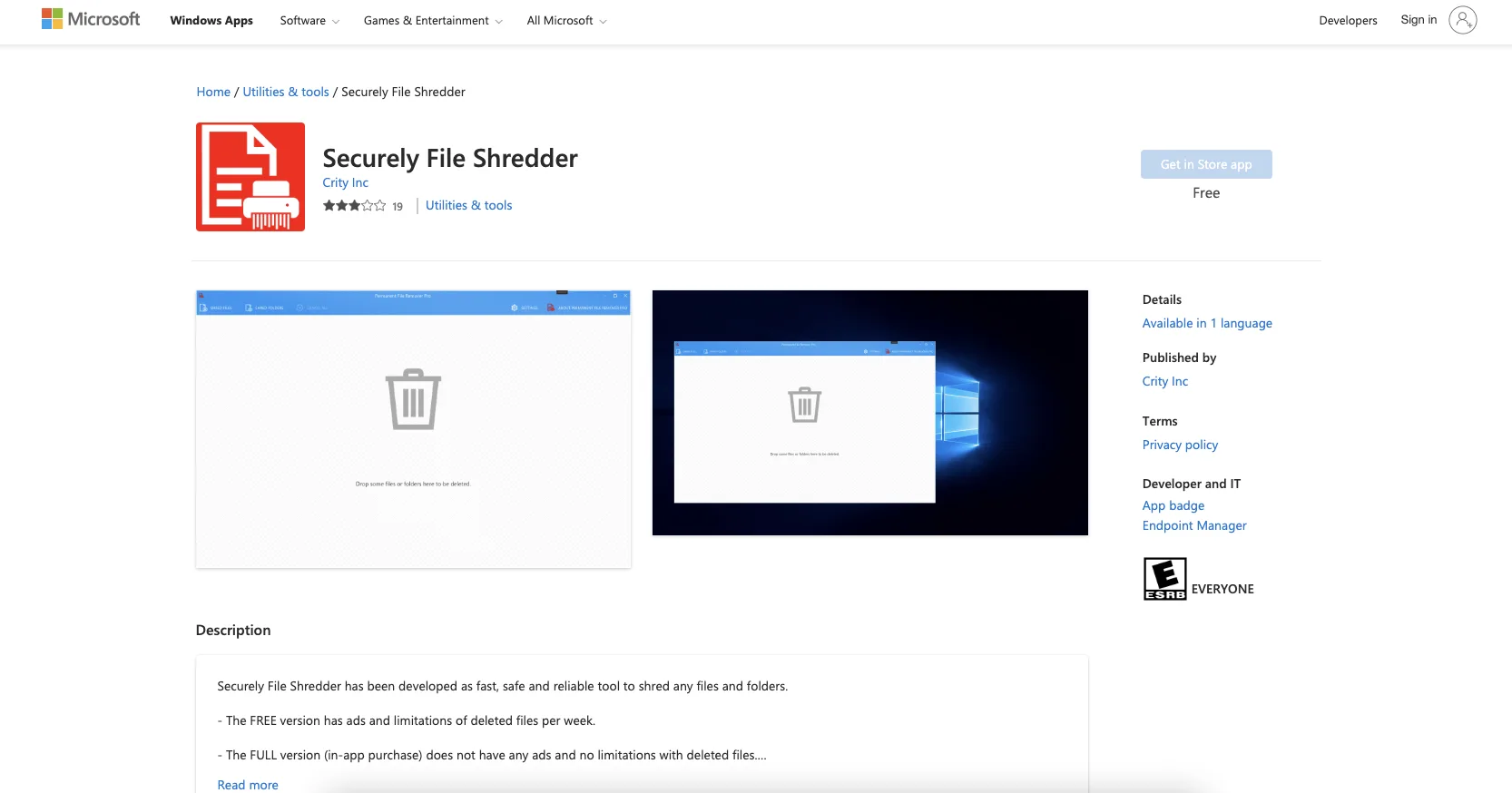 Rating: Most straightforward, navigable permanent deletion solution
Reason Security launched Securely File Shredder in 2013. The company focuses on providing robust cybersecurity solutions to a broad range of individual consumers.
Its shredding program doesn't come with unique, fancy features, but it perfectly fulfills its role as a shredder. You'd be hard-pressed to find another program with a UI as undemanding.
Some features that Securely File Shredder boasts include:
Fast Deletion Methods: Securely File Shredder deletes most file types within a few minutes. You can probably clear a 500 GB hard drive in around an hour if you use a relatively fast computer running the latest OS.
Streamlined Interface: You won't have trouble navigating the Securely File Shredder. Just drag and drop the files you need to delete, then let the program execute the necessary overwrite functions.
Simple Data Sanitization Techniques: The program supports Gutmann, DoD 5220.22-M, and Schneier. Admittedly, it's not as versatile as other shredders. However, it presents these sanitization techniques in the simplest way possible.
Securely File Shredder runs on Windows versions as old as Windows XP. It might lag a bit, but you won't have trouble maximizing its permanent deletion features.
What users say about Securely File Shredder
Users like how easy it is to use Securely File Shredder. Just run the deletion method you prefer and drag the files into the program.
Admittedly, having only three data sanitization methods feels limiting. However, based on the reviews we read, most users aren't interested in exploring alternative deletion techniques.
Why we recommend Securely File Shredder
Out of the shredders we listed, Securely File Shredder is the simplest to use. It best suits users who have no prior experience with data erasing apps and need an uncomplicated deletion system.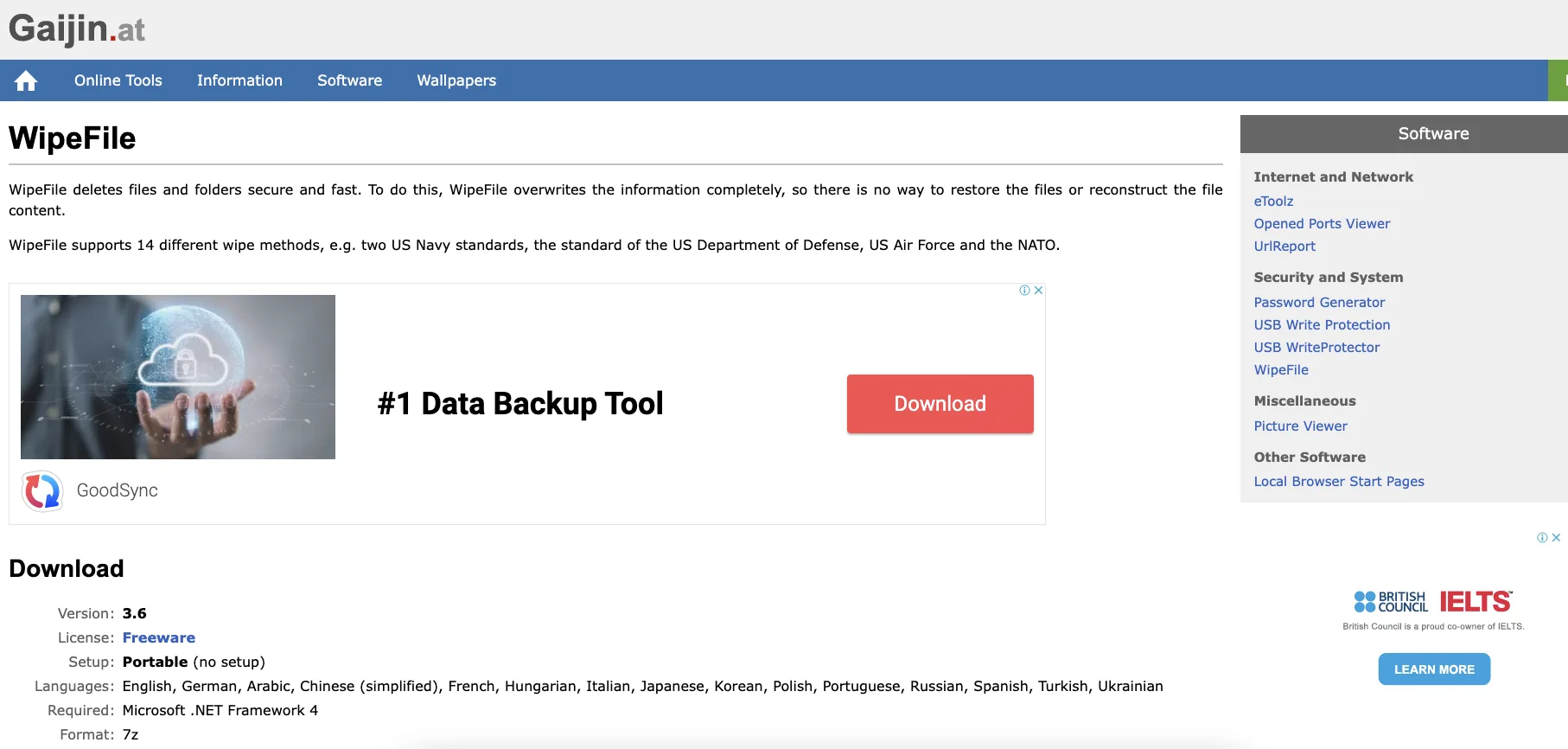 Rating: Functional, portable data erasing app
WipeFile is owned by Gajin.at. The company develops data privacy freeware and online tools, although it primarily relies on donations.
Users like WipeFile for its portability. If you regularly access confidential files on various devices, store a copy in your favorite USB flash drive.
Some noteworthy features of WipeFile include its:
Portability: WipeFile is only 135 KB and takes seconds to download. It also doesn't require any setup process, so you can quickly run the app on compatible devices.
Multiple Deletion Methods: Despite the app's small file size, it supports 14 different deletion methods. We suggest Gutmann. However, you can also look into other widely used options like NAVSO P-5239-26, Random Data, and Bit Toggle.
Streamlined Interface: Although the program has an intimidating, text-heavy interface, it also features a straightforward drag-and-drop deletion system.
You can run WipeFile on any device with a Windows OS, but expect some lag on older versions like Windows XP.
What users say about WipeFile
Most WipeFile users travel a lot. They usually access sensitive personal and work documents across different devices, hence the need for a portable data erasing app.
The program looks outdated and intimidating. However, you'll quickly get the hang of it once you master the different deletion methods available.
Why we recommend WipeFile
We recommend WipeFile if you need a portable, sophisticated data erasing app. Despite its small file size and quick boot time, you can run over a dozen data sanitization techniques.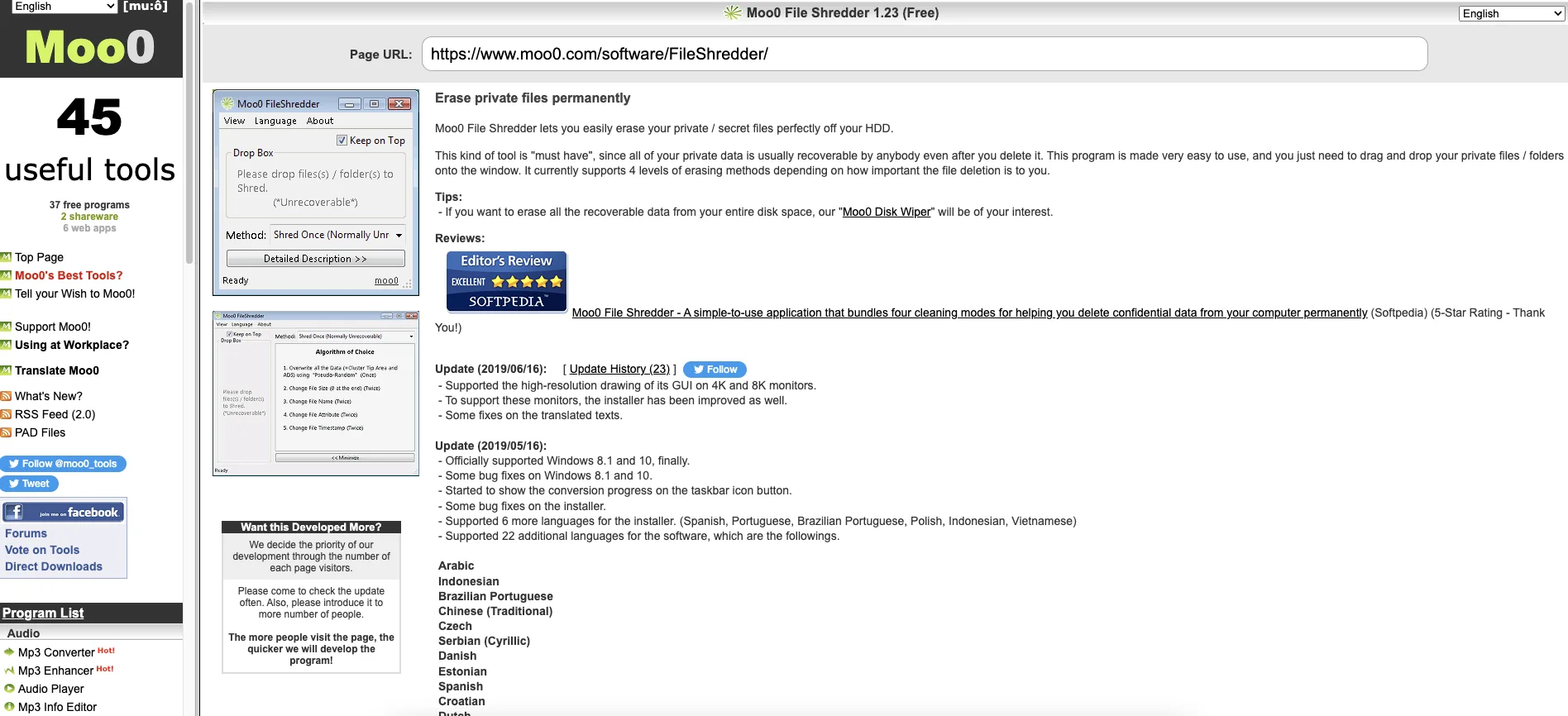 Rating: Convenient data erasing app to run in the background
Although you can run most file shredders in the background, you'll likely experience some lagging. Executing multiple overwrite codes requires RAM.
If you want a lightweight, straightforward program that you can run 24/7, try Moo0 File Shredder. It doesn't eat up much RAM.
You can leave the program to run and overwrite deleted files without compromising your GPU's performance.
Based on testimonials, users like Moo0 File Shredder for the following features:
Portability: The file is only 3.59 MB large, so you can easily carry it around in a USB flash drive. Setting it up takes a few minutes. However, it runs well and lag-free on most Windows OS devices.
Streamlined Interface: Utilizing its streamlined drag-and-drop features takes little to no experience. Whether you're a student who needs to sell your used laptop or an older adult worried about hackers, you'll understand the system quickly.
Lightweight Operations: Schedule deletions so that the app routinely deletes and overwrites files in the background.
The app supports 22+ languages and runs on Windows versions as old as Windows XP.
What users say about Moo0 File Shredder
Users primarily complained about the lack of features. It only has three data sanitization methods, plus it doesn't have many add-ons like scheduled or bulk deletions.
However, the app's lack of sophistication contributes to its speed. Since it doesn't execute multiple codes simultaneously, your device has enough RAM left for several other tasks.
Why we recommend Moo0 File Shredder
You'll like Moo0 File Shredder if you need to discard various files regularly. Just leave it running in the background so that it automatically overwrites and permanently erases anything you delete.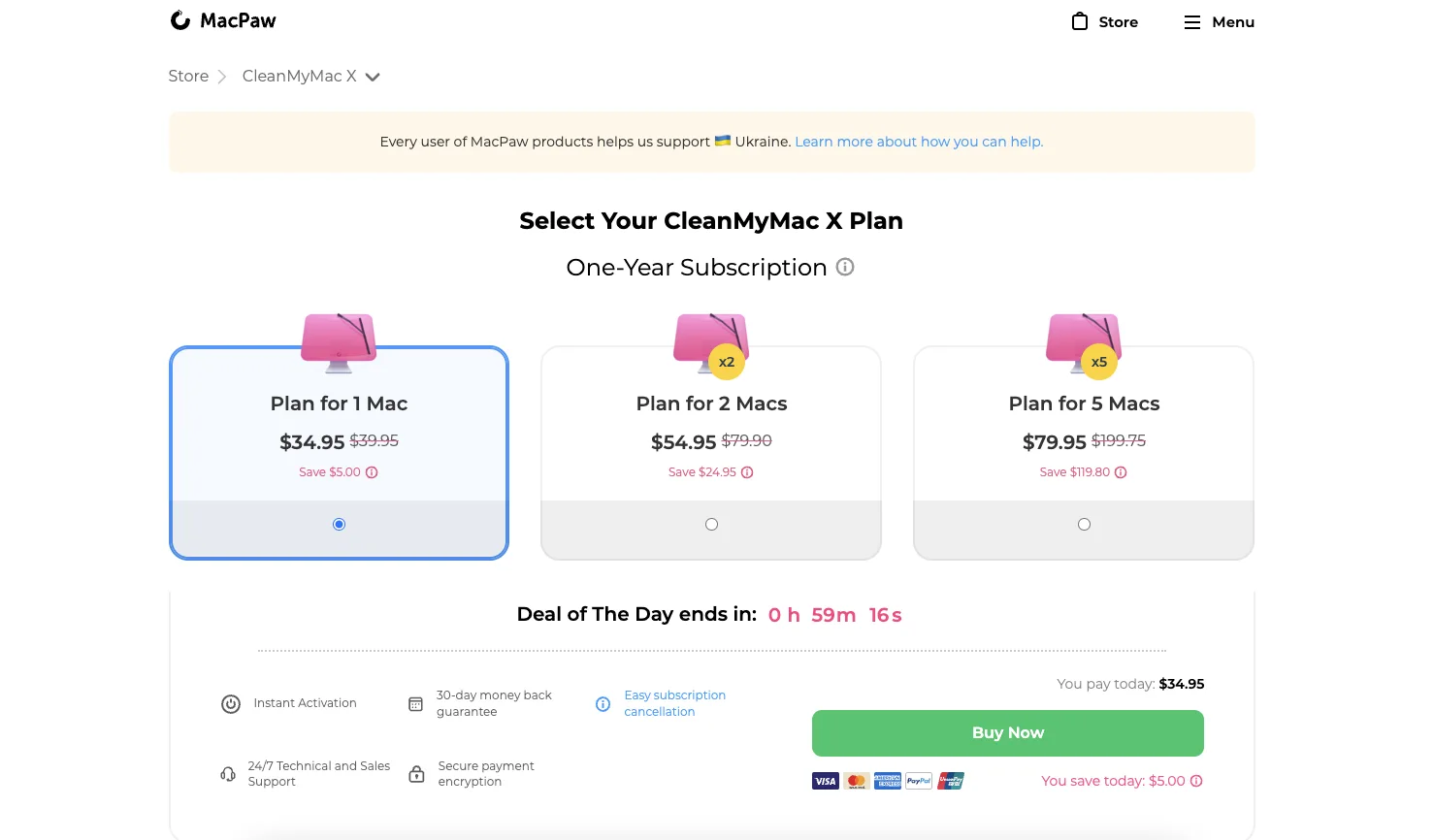 Rating: Best data erasing solution for macOS devices
CleanMyMac X is a widely known macOS data management program. You might have even seen some popup ads endorsing it whenever you used your Apple devices.
If the app piqued your curiosity, consider trying it. CleanMyMac X doesn't just permanently delete your files, but it also manages and optimizes your macOS storage system.
Some features that might make you consider downloading it include the following:
Multi-Purpose Menu Bar: You can navigate the program's different features through its straightforward navigation bar. It also gives you insights into your device's activity readouts.
Space Lens: You'll like the Space Lens feature if you keep running out of storage space. It assesses your device, scans the most space-consuming files, and helps you eliminate them.
Permanent File Deletion: CleanMyMac X runs a unique data sanitization method optimized for macOS devices.
A one-year subscription costs $39.95, although you might get a special 50% discount if you need the app for multiple macOS devices.
What users say about CleanMyMac X
CleanMyMac X offers one of the most sophisticated, up-to-date deletion methods for macOS devices. It even supports the latest OS versions.
Users just don't like that CleanMyMac X charges subscription fees. Although $3 a month won't put a dent in your budget, you can get most other deletion apps for free.
Why we recommend CleanMyMac X
We only recommend CleanMyMac X if you use a macOS device. Otherwise, please look into other free data erasing apps with similarly sophisticated deletion methods.
Factors when choosing the best paper shredder
Don't worry if you still find our recommendations confusing. To further narrow down your choices, assess your options based on the following factors:
Security Rating: Shredder security levels range from P1 to P7. Although P2 might accommodate personal shredding needs, you'd need a P3 or P4 shredder in a commercial setting. P5 to P7 shredders are reserved for government and military agencies.
Shredding Capacity: Assess the load and paper capacity of your shredder. A small portable unit might work if you only get a few letters monthly. However, look into larger general office shredders if more than five people will share the same machine every day.
Cut Type: Among strip-cut, cross-cut, micro-cut, and crypto-cut shredders, we recommend the third option. It produces finer particles than strip-cut and cross-cut models. As for crypto-cut shredders, they're generally reserved for military and government use.
Additional Tools: High-end shredders offer several advanced features that you might not find on cheaper models. For instance, some units can tear through plastic materials. You can use them to destroy old credit cards, discs, and laminated documents without worrying about jamming.
Safety Features: The sharp, dangerous blades on commercial shredders don't often pose a hazard, but mindless usage could still cause a freak accident. You'd do well to get a shredder with several safety features.
Overall, look for a reliable, secure document shredder. You don't have to get the most expensive model available, but at least invest in a high-quality, widely trusted one.
How to shred documents for free
You'll have to watch out for local community shredding events. In most cases, companies and agencies partner with paid shredding service providers to cater to specific neighborhoods.
For instance, the Halton Crime Stoppers and Blue-Pencil have a joint shredding event in September.
Feel free to look into government and private organizations providing free community shredding services. However, please verify their background first.
Warning:
Don't blindly agree to off-site shredding. Although affordable—if not free—you'll have to ship and entrust your documents to the shredding service provider. Note that some shady companies only pretend to shred files.
You'd do well to opt for on-site shredding instead so that you can ensure the company really destroys your papers. It likely costs more. However, we think it's a small price to pay for the extra security and privacy.
Improving data privacy through physical and digital file shredding
We believe that everyone needs access to a secure document shredder. You don't have to buy one, but research where and when you can shred paperwork with your PII.
And don't forget about shredding online documents. Again, hackers can still recover deleted files, so you'll need a third-party program to clear your system.
Just remember that document shredding only contributes to data privacy. You should also follow other cyber hygiene and file security tactics to ensure that criminals never exploit your personal information.
Look for weaknesses in your security, then address them promptly. Data privacy involves a lot of work, but it doesn't compare to the potential losses of identity theft.