After a lifetime of hard work, you deserve to enjoy your golden years as a retiree. You want a place that is safe with plenty of meaningful activities to keep your mind sharp and body moving.
Maine is one of the states popular with seniors in the United States who are looking for independent living communities. But with so many 55+ communities in the state, how can you tell which one will be the best place for you? The hardest part about retirement is finding the right community to move into.
Not to worry because we've done all the research for you. Stick with us all the way to the end, so you don't have to spend countless hours doing the research yourself. Or worse, end up choosing the wrong community based just on marketing. We all know what a hassle it is to have to move again!
For this blog post, we looked at the different communities in Maine and picked out the top 5 according to amenities, lifestyle activities, safety, and the services available to help residents as they get older. Read on to discover the over 55+ adult communities in Maine that made our list!
1. Avalon Village – Hampden, ME
Overview:
Avalon Village is a senior housing community located in an upscale area in Hampden, Maine. It is one of the senior villages offering independent living to seniors who want to enjoy living in a retirement community but can still be close to local conveniences and commercial centers.
Avalon Village made our list because of its beautiful location that is nearby natural, cultural, and educational attractions in Maine.
Property Amenities:
Outdoor garden
Library
Outdoor walking paths
Public living area
Dining room
Pool
Store
Activities and game room
Restaurant
Fireplace
Washers and dryer available
Kitchens
Maintenance and housekeeping
Utilities Included
Cable TV
Wifi / Internet
Education programs
Bridge
Arts and crafts
Yoga
Daily exercise
Social activities
Laundry room
| Nearby Hospitals | Estimated Cost | Contact Details |
| --- | --- | --- |
| St Joseph Hospital – 5.07 Miles | Independent living starts at $3,200 a month. | 50 Foxglove Drive, Suite 11 Hampden, Maine 04444 |
| Eastern Maine Medical Center – 5.44 Miles | | https://www.avalonvillage.com/ |
| | | (207) 862-5100 |
2. Sunnybrook – Brunswick, ME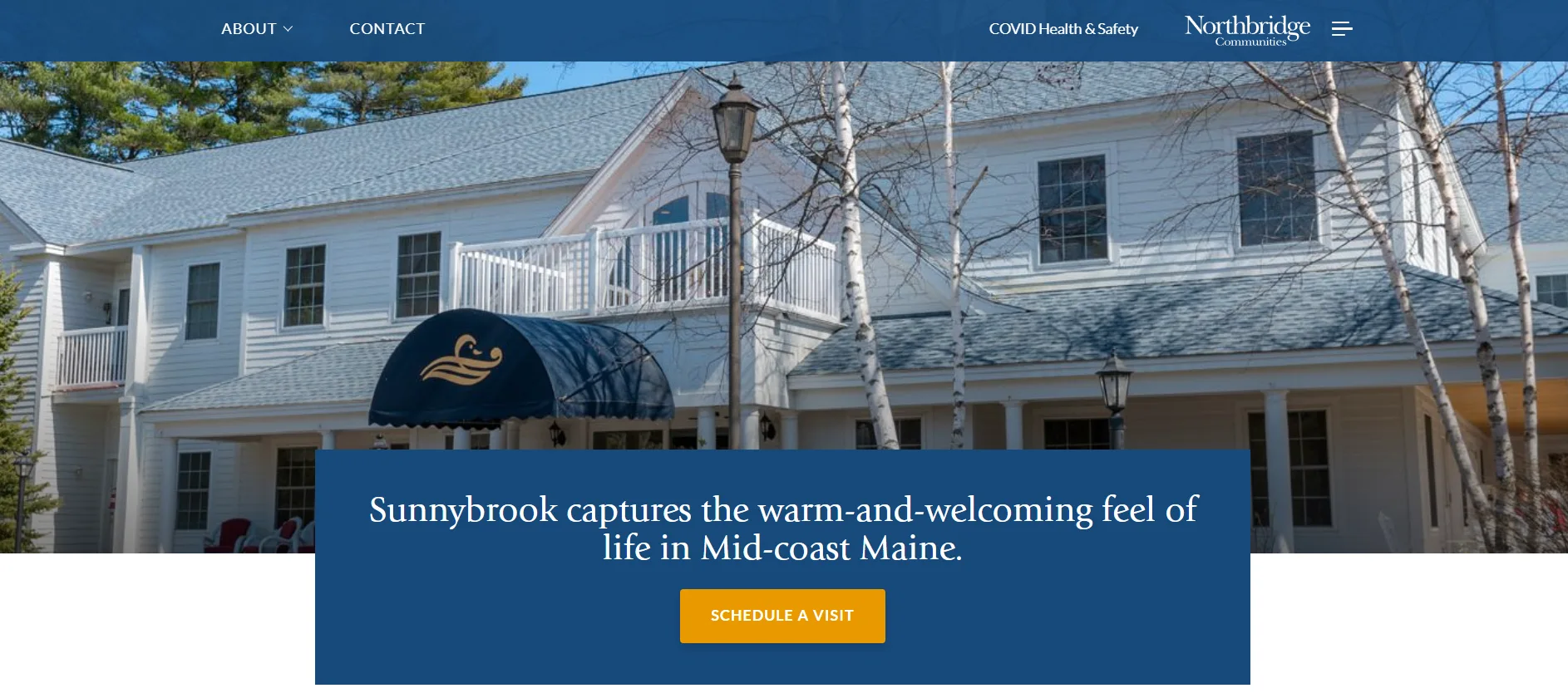 Overview:
Located in Brunswick, Maine, Sunnybrook is a senior living community that offers home-like independent living and assisted living as well. It prides itself on being a small, charming community with picturesque views of Moose Pond.
This community made this list because of its all-inclusive rental structure that is quite straightforward. It's perfect for seniors looking to stay in a smaller community in Maine.
Property Amenities:
All-inclusive rent
Restaurant-style dining
Well-appointed living rooms
Program and entertainment spaces
Barber and salon services
Complimentary Wifi
Landscaped walking paths
Gender-neutral restrooms
Resident parking
Small pets allowed
Accepts credit cards and insurance
Offers military discount
| Nearby Hospitals | Estimated Cost | Contact Details |
| --- | --- | --- |
| Mid Coast Hospital – 0.52 Miles | Independent living starts at $4350 a month. | 340 Bath Rd Brunswick, ME 04011 |
| Parkview Hospital – 4.21 Miles | | https://northbridgecommunities.com/sunnybrook/ |
| | | (207) 443-9100 |
3. Park Danforth – Portland, ME
Overview:
Located in Portland, Park Danforth offers independent living in an attractive and relaxed setting. It prides itself on being established in 1881. For independent living, there are 110 market-rate apartments and 70 federally-assisted apartments.
Park Danforth is on the list because it offers different housing options depending on your budget. It also offers ample amenities for its price but gives you an option to add more for an additional fee.
Property Amenities:
24-hour emergency staff
Transportation to grocer
Daily check-in
Nutritional counseling
Exercise/fitness programs
All utilities, except phone and cable
Service coordination
Social activity programs
Parking
Additional Fee:
Dining plans
Underground garage parking
Home Support Services (housekeeping, laundry, medication reminder, etc.)
| Nearby Hospitals | Estimated Cost | Contact Details |
| --- | --- | --- |
| Maine Medical Center – 2.7 MilesNew | Independent living starts at $2,650 for one-bedroom, $3,300 for one-bedroom PLUS, and $4592 for two-bedroom apartments. For federally-assisted apartments, rent will be subject to income. | 777 Stevens Avenue, Portland, ME 04103 |
| England Rehabilitation Hospital – 1.5 Miles | | https://parkdanforth.com/ |
| | | (207) 797-7710 |
4. The Woods at Canco – Portland, ME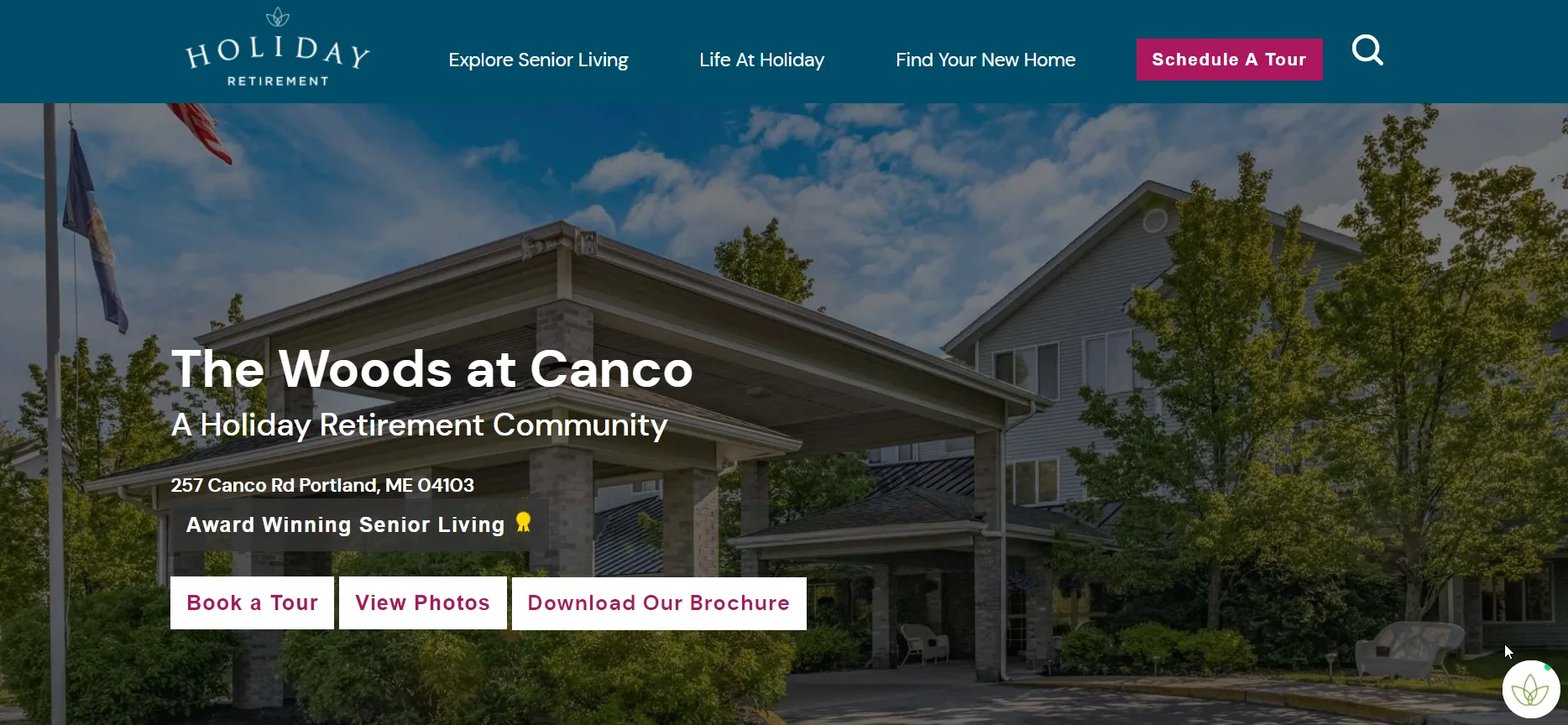 Overview:
The Woods at Canco is one of the adult communities offering independent living for seniors in Portland, Maine. As the name suggests, the community is located near Canco Woods which is an urban forest and a wildlife habitat.
This community made our list because of the great online reviews the place received from residents and their families. It is a good option for people looking for over 50 communities near nature.
Property Amenities:
Basic cable
Utilities: Electric, Gas, Sewer, Water
Beauty and barbershop
Computer room
Resident transportation
Hiking trails
TV room
Wifi in common areas
Garden and patio
Resident parking
Shared meals in the dining room
Laundry for linens
Housekeeping
Offsite activities
Fitness room
Most pets allowed
Extras For An Additional Fee:
Handicap barrier-free units available
Hardwood
Individual climate control
Telephone hookup
Walk-in tub
Private dining room and resident kitchen
Laundry room
Chapel
Library
Locked mailboxes
5. The Atrium at The Cedars – Portland, ME
Overview:
If you want a hotel-like experience, check out The Atrium at The Cedars located in Portland, Maine. This is an award-winning senior living community that is conveniently located near Maine's different attractions and entertainment spots.
This community is a great choice for seniors looking for a luxury living option to enjoy their retirement. You can choose from the two different retirement condos/apartments available at The Atrium.
Property Amenities:
Electricity
Water and sewer
Property taxes and building insurance
Reserved parking
Custodial services
Snow removal
Groundskeeping
Trash removal
Interior and exterior maintenance
Security patrol
One meal per day, either lunch in the café or dinner in the main dining room, with brunch on Sundays
Free continental breakfast
24-hour emergency call service
Transportation to personal appointments and scheduled activities
Weekly housekeeping with flat linen service
Washer/dryer in the apartment
Basic cable
Wifi in common areas
Extensive activities program including excursions to many area destinations
Unlimited access to all common areas including movie theater, library, living room, private dining room, pool, spa, fitness studio,  etc.
Priority access to The Osher Inn assisted living, The Rehabilitation Center at The Cedars, skilled nursing care at The Cedars, and community-based outpatient programs
Nearby Hospitals
Estimated Cost
Contact Details
Northern Light Mercy Hospital – 3.6 Miles
You have to pay a one-time, 90% refundable entrance fee to secure your apartment PLUS a monthly fee.
• The entrance fee starts at $295,000 for one-bedroom and $415,000 for two-bedroom apartments. You can refund this when you leave and the apartment is re-occupied.
• The monthly fee starts at $2,950 (one-bedroom) and $3,800 (two-bedroom).
620 – 640 Ocean Avenue, Portland, Maine 04103
Maine Medical center – 3.8 Miles
https://www.thecedarsportland.org/living-options/retirement-living-at-the-atrium/
207 -221 – 7000 | [email protected]
Is Maine a Good Place to Retire?
Yes, Maine is a great place to retire. The cost of living is low, the scenery is gorgeous, and the people are friendly.
There is a very low crime rate and good health care options. Plus, there are plenty of activities and amenities to keep you busy in your retirement years.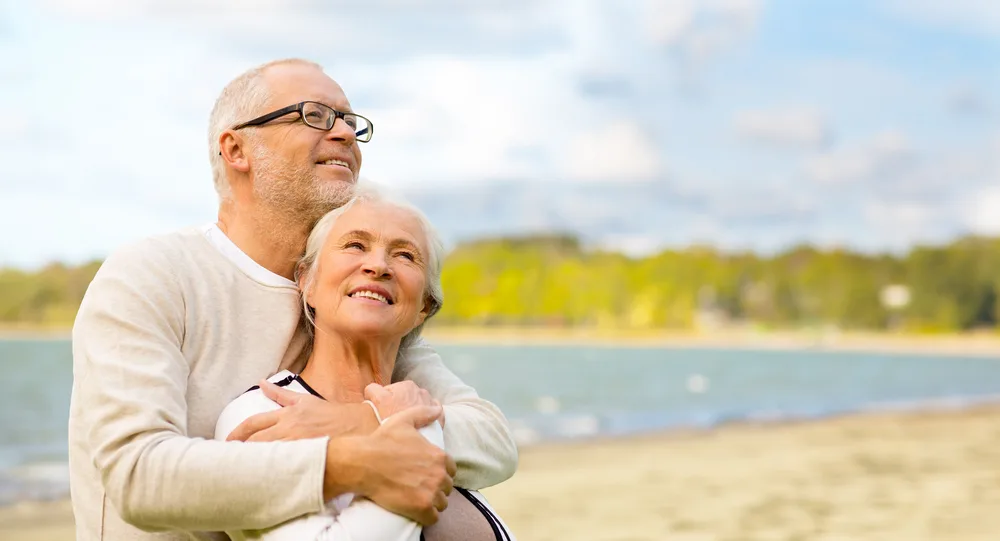 Weather
Maine has four distinct seasons so if you enjoy experiencing winter, spring, summer, and fall then this state is for you.
Summertime is perfect for the many outdoor activities available in Maine. But there are also indoor attractions that can keep you busy during the winter months.
Cost of Living
The cost of living in Maine is much lower than in most other states. It is around 4% lower than the U.S. average. This makes it a great option for seniors looking to make the most out of their retirement income.
Best Place to Live
Portland has been ranked as one of the top 10 best places to live in the United States by the U.S. News & World Report.
Senior Population
Nearly 21% of Maine's population is over 65 so if you want to retire amongst your peers, this state is a great choice.
Healthcare
According to data from the Centers for Medicare & Medicaid Services Hospital Compare website, Maine keeps providing greater quality hospital care than any other state in the country.
Beautiful Scenery
Maine has some of the most beautiful scenery in America. The clear, blue water on the coast is perfect for fishing or just walking to enjoy the scent of the sea.
The scenic mountain and forest views are breathtaking. There are plenty of hiking trails, camping sites, rivers, and lakes to visit on land. If you enjoy fresh air and nature then Maine might be the best place to retire.
Recreation
Maine offers retirees a range of outdoor activities, including fishing, hiking, biking, and skiing. It also has numerous cultural attractions, including museums, theaters, and festivals.
Some of the interesting attractions in Maine include Farnsworth Art Museum, Portland Head Lighthouse, Old Orchard Breach, and more.
Safety and Security
For many seniors, it's important to retire in a place where it is safe and secure. Nobody wants to worry about getting robbed or assaulted in their retirement years.
If safety is your priority then Maine is perfect for you. Maine has topped the list as the safest state in America in 2020. It earned the number one spot not only for the safest state but also for residential and personal safety, road safety, and emergency preparedness.
Planning to Retire in Maine?
With its moderate climate, beautiful coastal scenery, and abundance of outdoor activities, Maine is a great place to spend your retirement years. It has a low cost of living, making it an affordable place to retire.
And with its many quaint small towns and picturesque villages, Maine offers plenty of places to call home in your retirement years. You can easily find several options when looking for the best 55+ communities in the state.
So if you're looking for a great place to retire, be sure to add Maine to your list!