How many online accounts do you have? If you're anything like the average American, you likely have 27, according to this study by Harris Poll and Google. The study also found that 66% of Americans reuse their passwords.
The thing is, nearly a million people get hacked every year. Unless you have strong and unique passwords for your social media accounts, banking information, and email— among other online logins— you're at risk of being one of them.
But unless you're a robot, remembering a strong password like "3Dd!5g$hJk7" is practically impossible, let alone 27 of them.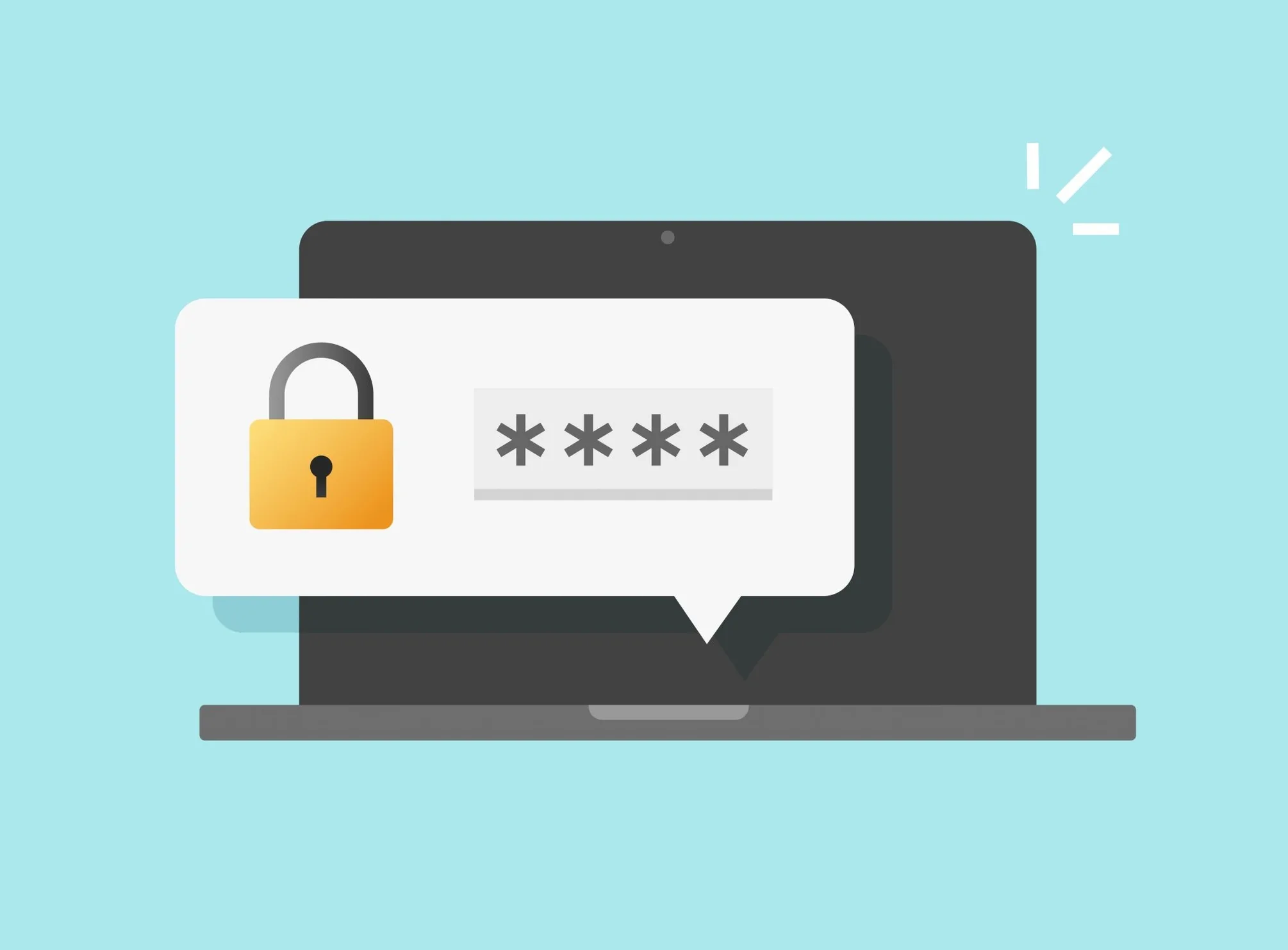 That's where password managers like Dashlane come in. They're basically an ultra-secure vault where you can securely and conveniently store all your passwords. Still, is it safe to use Dashlane?
We wanted to find out, so we examined official Dashlane sources, reviewed user feedback, and tried it ourselves to bring you the answer in this in-depth breakdown.
Don't skip until the end because we share the most crucial factor we discovered in how to keep your accounts safe and make Dashlane work for you.
Otherwise, you'll miss out on how to maximize your password manager and make yourself vulnerable to identity theft, scams, and hacks. Let's get started.
Dashlane: Overview of the company, features, and how it works
Dashlane was co-founded by multi-awarded tech expert Bernard Liautaud back in 2009. Liautaud is a Stanford engineering graduate and founder of Business Objects (a global leader in business intelligence and one of the top 15 biggest software companies in the world). His background and specialties include AI, data science, and cybersecurity.
In just 10 short years, Dashlane has evolved from a startup to a global company with headquarters in Lisbon, New York, and Paris, plus a multinational 200-person team. In 2021, JD Sherman (a high-ranking official in famous tech companies like HubSpot, Akamai, and IBM) became Dashlane's CEO. Along with Sherman, Dashlane is led by an equally brilliant team.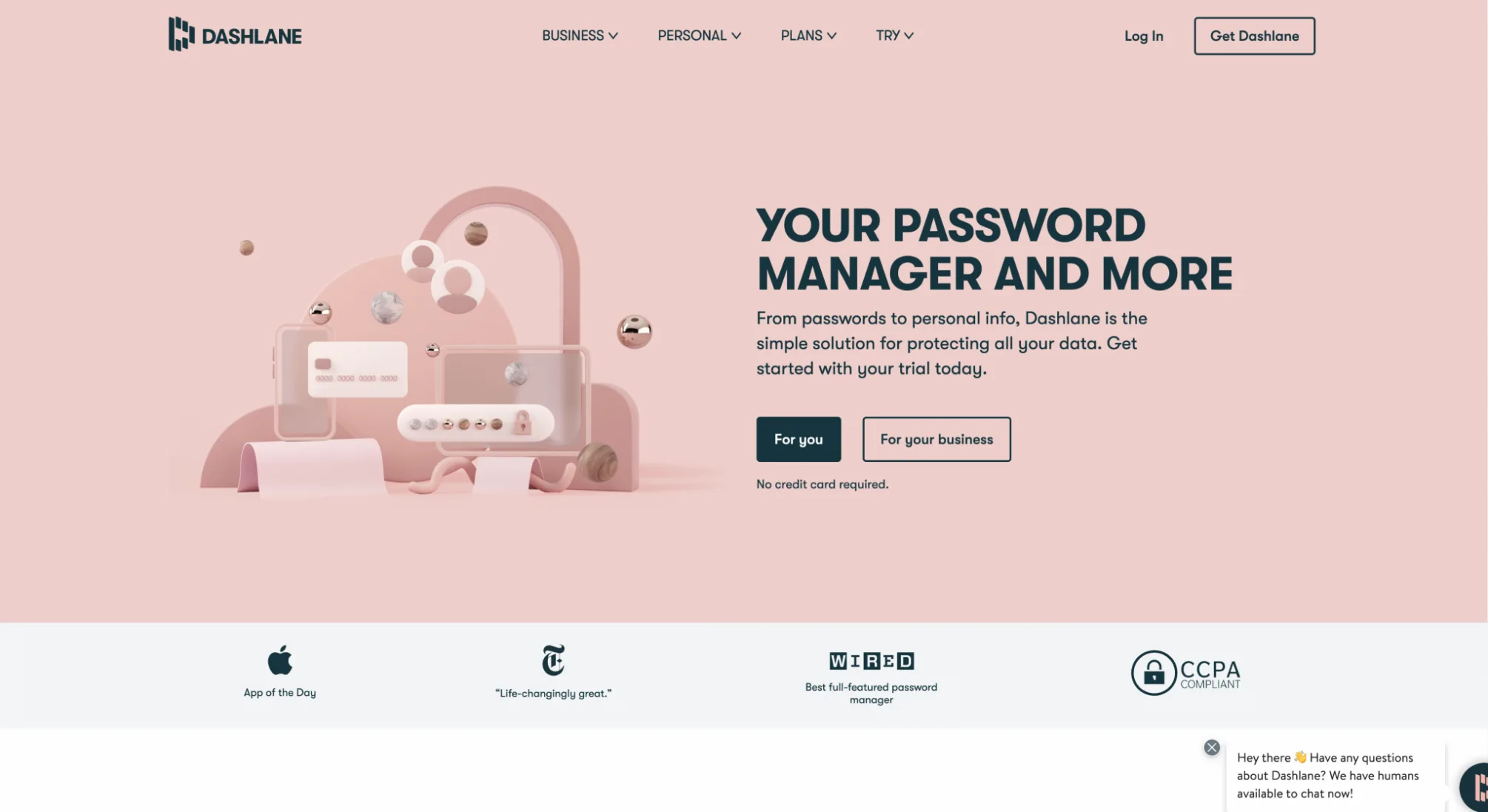 Dashlane also successfully raised $110M during their Series D funding in 2019, during which they added Lyft's CMO to the team.
We also scrutinized Dashlane's social media presence, and it looks positive across the board. They're active and verified on Facebook, YouTube, and Twitter. They also have an info-rich LinkedIn account, plus detailed profiles on trusted tech news sites like Crunchbase.
All of these tells us that Dashlane is a strong and credible company with the experience, funds, and leadership to support its product.
How Dashlane works
Among other things, Dashlane allows you to:
Create strong, unique passwords for all your accounts
Save and fill in your personal information for online forms
Store payment information for faster, convenient online shopping
Share passwords and account information with others (read more about how to do this below)
Receive real-time alerts if any of your accounts are compromised
And more
How Dashlane works is that you download the app and create an account. Then, you add all your passwords to Dashlane's "vault." The app uses military-grade encryption to keep your information safe. You can also set up a PIN or fingerprint ID to log in and a master password to open Dashlane.
You can use Dashlane for free, but the best features are locked behind a premium subscription. We'll touch more on this later. For now, let's take a look at the key features of Dashlane.
Dashlane password manager features
As we mentioned, Dashlane is more than just a password manager. It's an app that makes your life easier and helps you take control of your online security in several ways. Here's a quick overview:
| FEATURES | DESCRIPTION |
| --- | --- |
| Two-factor authentication (2FA) | Dashlane can generate unique, one-time codes to use as your second factor of authentication. This adds an extra layer of security to your accounts. 2FA is a must-have these days, and we're happy to see that Dashlane offers this feature. |
| Password generation | Dashlane doesn't just store your passwords – it can generate them, too. The app uses a special algorithm to create long, complex, and unique passwords for all your accounts. You don't have to remember these passwords – Dashlane does it for you. |
| Password security auditing | Dashlane constantly scans your passwords and flags any that are weak, compromised, or duplicates. The app will then prompt you to change these passwords to something stronger. |
| Secure password sharing | Sometimes, you need to share passwords with others, such as when you're working on a project with someone or your family is trying to access your streaming account. With Dashlane, you can share passwords securely. The recipient will only be able to see the password once, and then it will be encrypted. |
| Digital wallet | Dashlane's digital wallet feature allows you to store your payment information securely. This makes online shopping a breeze since you don't have to fumble around for your credit card every time you make a purchase. |
| Virtual private network (VPN) | VPNs encrypt your internet traffic and disguise your IP address. This makes it difficult for anyone to track you online or steal your personal information. Dashlane has its own VPN service, which is included in premium subscriptions. |
| Live dark web monitoring | The "dark web" is a hidden part of the internet where criminals buy and sell stolen data, including hacked passwords. Dashlane's dark web monitoring feature scans the internet for your email address and notifies you if it finds any of your personal information floating around. |
| Automatic password changer | This is one of our favorite features of Dashlane. With the click of a button, you can change all your passwords at once. The app will log into each account, generate a new password, and save it in your vault. |
| Auto-fill | Passwords are important, but they're also a hassle to keep filling in every time you want to log in somewhere. Dashlane's auto-fill feature takes care of this for you by automatically filling in your username and password, plus other personal information, on web forms. |
| Multi-platform support | You can use Dashlane on your web browser, iOS device, and Android device. Unfortunately, Dashlane has decommissioned its apps for Mac and Windows, so you can't use it on your desktop anymore. |
| Biometric ID | Aside from a PIN or master password, you can also use your fingerprint or face ID to log in to Dashlane on your mobile device. This is extremely convenient, given that most smartphones now have some form of biometric authentication these days. |
| Secure notes | In addition to passwords, you can also store other sensitive information in Dashlane, such as your social security number, passport number, or insurance information. Specifically, it has pre-set options for categories like server info, database, legal document, software license, membership, and finance. |
Looking at Dashlane's feature set, it's a robust password manager with a couple of rare features that make it stand out from the competition.
One is Dashlane's built-in VPN service. If you wanted VPN protection, you used to have to sign up for a separate service and then connect to it whenever you wanted to encrypt your traffic. Now, with Dashlane, you can just turn on the VPN with a couple of clicks.
Another neat feature not all password managers have is Dashlane's dark web monitoring. This is a fairly new addition to password managers, but it's also a critical one. Today's criminals don't just buy and sell stolen passwords on the dark web – they also buy and sell stolen personal information, such as your name, address, and date of birth. With Dashlane's dark web monitoring, you can find out if any of your personal information has been compromised and take steps to protect yourself.
These extra features alone make Dashlane an impressive password manager. Still, it doesn't tell us everything about how secure Dashlane is. To get a better understanding of that, we need to take a look at how you handle your data.
Is Dashlane safe and why?
Dashlane isn't just safe – it's one of the most secure password managers in the world today, period.
There are three main reasons for this: their 256-bit AES encryption, zero-knowledge protocol, and the fact that they encrypt your data locally. Let's look at each one in turn.
256-bit AES encryption
This is the Rolls-Royce of encryption standards and is used by thousands of banks, governments, and militaries around the world to protect their data. It's even approved by the NSA (US National Security Agency) for top-secret information. 256-bit AES encryption is so safe that it would take billions of years for even the most powerful computers to crack it, and it's never been done before.
Zero-knowledge protocol
The zero-knowledge protocol is a security measure that means Dashlane doesn't know your master password. This is important because, if Dashlane were ever hacked, the hackers wouldn't be able to get your master password and access your account. It also protects you against Dashlane itself – even Dashlane's employees can't see your master password or any of your other data.
Local data encryption
Most password managers encrypt your data on their servers. This means that if their servers were ever hacked, the hackers would be able to get your data. Dashlane takes a different approach–they encrypt your data locally on your device before it's ever sent to their servers. This means that, even if Dashlane's servers were hacked, the hackers wouldn't be able to get your data because it's all encrypted on your device.
All of these security measures make Dashlane one of the most powerful and complete password managers today.
Dashlane plans and pricing
Clearly, Dashlane is an amazing password manager. However, all that high-level security comes with a price because Dashlane is also more expensive than most of its competitors.
Dashlane has four plans, which are Free, Premium, Premium Family, and Business. Here's a quick breakdown of each:
PLANS
DESCRIPTION
Dashlane Free
The free plan is, well, free. You'll be able to use Dashlane's essential features like the autofill, password generator, and 2FA.

A free Dashlane plan limits you to 50 passwords and one device, so it's best suited for people who only need it for their personal accounts.
Dashlane Premium
Dashlane's Premium plan is for individuals who want top-tier security and convenience. It costs $6.49 a month, but you can save money with the $59.99 annual plan.

Premium-only features include unlimited passwords, multi-device synchronicity, Dark Web Monitoring, and Dashlane's VPN.
Dashlane Premium Family
This is the same as the Premium plan, but for up to six family members or friends. It also comes with the Family Dashboard feature so you can see at a glance how everyone in your family is doing with their passwords.

The Dashlane Premium Family plan costs $8.99 per month for six Premium licenses or $89.88 per year.
Dashlane Business Plan
The Dashlane Business plan is for teams of any size who need to share passwords and other sensitive data. It comes with advanced enterprise features like SSO integration, Admin Console with a reporting dashboard, directory integration, and policy management.

A really cool thing about Dashlane's Business plan is that it also comes with a free Premium Family plan, so you and your family can use Dashlane's premium features for free.
Dashlane is definitely on the expensive side of password managers. LastPass, one of its main competitors, has a similar range of features but only charges $3 a month for its premium plan.
When you factor in the usual cost of VPNs, however, Dashlane's price doesn't seem so bad. Dashlane's VPN is Hotspot Shield which costs around $12.99 a month per license. So if you also want a VPN with your password manager, you're actually getting a pretty good deal.
How to use Dashlane: Step by Step
It's incredibly easy to use Dashlane. You don't have to be a techie or anything – even if you've never used a password manager before, you'll be able to use Dashlane without any problems.
Dashlane walks you through the sign-up process here, but we'll give you a quick overview of what to expect:
Download Dashlane for iOS, Android, or install the web browser extension.
Enter your email address to create your account.
Create a Master Password. This is the only password you'll need to remember from now on!
Re-enter your Master Password to confirm it.
And that's it!
After creating your Dashlane account, you'll go through a quick onboarding process where Dashlane will show you some of its features. Throughout the onboarding, you can activate features like biometric login, 2FA, and the VPN.
Dashlane tips and tricks
Now that you know the basics of how to use Dashlane, here are a few extra tips and tricks to get the most out of it:
1. Use the Premium Family plan to save money
You don't actually need to be family to use the Premium Family plan – you can just share it with friends. It's a great way to save money on your subscription.
2. Turn on the VPN all the time
Dashlane's VPN is always on by default, but you can turn it off if you want to save battery life. If you're worried about data usage, you can set the VPN to only turn on when you're connected to Wi-Fi.
3. Install the Dashlane extension on every device
This way, you'll always have your passwords with you no matter what device you're using.
4. Use the Password Changer to update your passwords
We recommend taking advantage of this feature ASAP, especially if this is your first time paying attention to your passwords. Chances are, most of your passwords are either really weak or really old.
5. Upload your sensitive data to Dashlane
If your banking info is still somewhere in your laptop's notes app, it's time to upload it to Dashlane. The same goes for any other sensitive data like your passport or driver's license.
Dashlane reviews and complaints
Of course, we also looked into what people are saying about Dashlane. In general, people seem to really like it – the New York Times even called it "life-changingly great."
Based on those ratings, it seems like people are generally happy with Dashlane. The most common complaints seem to be about the price, customer support, and occasional bugs.
We included actual complaints below so you can see for yourself:
These reviews tell us that there are definitely some areas that Dashlane needs to improve on, like customer support and ironing out bugs.
Pros and cons of using Dashlane
Let's sum up what we learned about Dashlane:
PROS
Easy to use
Has a forever free version
Can be used on multiple devices
Can store sensitive data on a notes-style section
Has a built-in premium VPN
Military-grade encryption
Offers dark-web monitoring (Premium only)
CONS
More expensive than some of its competitors
Can be difficult to cancel subscription
Customer support is not always responsive
Bugs and crashes reported by some users
Free tier is extremely limited
Verdict: Is it safe to use Dashlane?
If you're okay spending more money protecting your online accounts and passwords, then we say go for it. Dashlane is a terrific password manager with many features that justify its price tag.
Just keep an eye on your subscription, expect a few bugs here and there, and don't store anything too sensitive on the free plan.