Even if you've never visited the dark web, chances are you've already read horror stories about it.
The dark web is plagued with criminal activities. Users access it anonymously to carry out various crimes, from petty theft like selling Netflix login codes to major felonies like contract killing.
You probably stick to legal sections of the surface and deep web, such as online banking, social media, and eCommerce. However, the dark web poses a threat to everyone online. Criminals can still attack you.
So, should you explore the dark web to ensure your identity is safe? Of course, not.
Instead of going out on a limb and entering the depths of the internet, you can sign up for dark web monitoring services. Banks, credit monitoring companies, and password managers might have offered you this service before.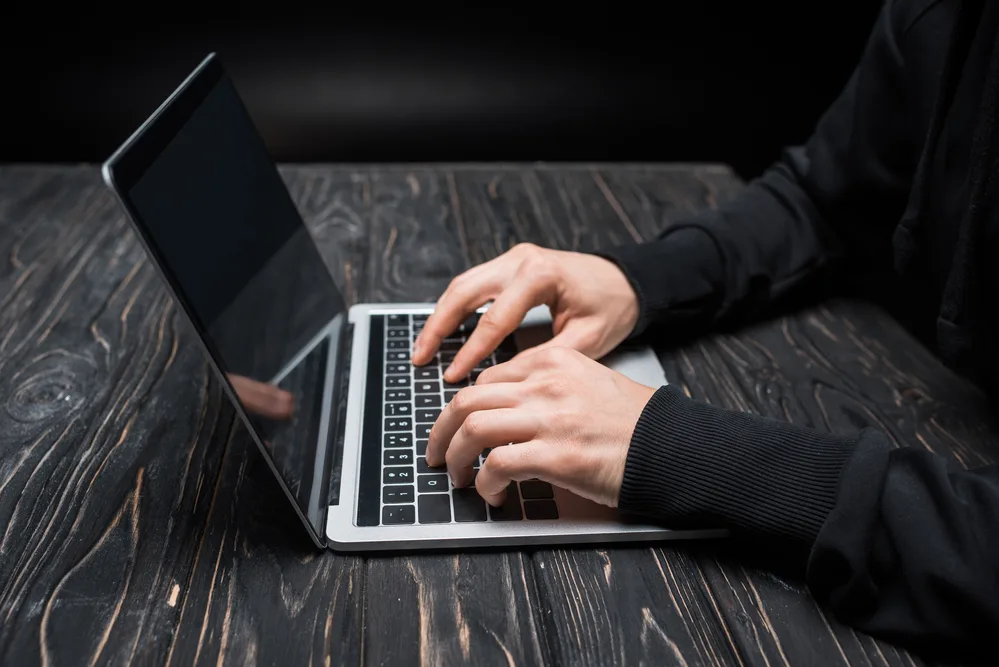 However, don't blindly sign up for the first one you see. Cybercriminals continuously develop new ways to attack innocent people, so you can't just trust random dark web monitoring tools.
Use this guide to jumpstart your research. Just like you, we also want to protect ourselves from cybercriminals, so we asked our team to research the most widely trusted dark web surveillance companies.
After reading, you'll know exactly which service provider addresses your security needs.
Please stick with us until the end. We'll explain whether or not you can still remove your Personal Identifiable Information (PII) from the dark web. You can't get caught unprepared during a cyberattack.
Let's dive into the best dark web monitoring service providers!
The most reliable dark web monitoring services
Dozens of institutions offer dark web surveillance nowadays. Although it's nice to have several options, scrolling through the different offers might make your head spin—especially if it's your first time.
Fortunately, we can help you reach a decision. After researching the best dark web monitoring service providers online, we narrowed the list down to the following:
Have I Been Pwned?
Best for: Users looking into dark web monitoring for the first time
Have I Been Pwned? serves as most users' gateway to dark web monitoring. Troy Hunt launched the site in 2013 following several data breaches from widely known platforms like Yahoo! and Adobe.
Have I Been Pwned? has a straightforward function: check if your email or phone number has been involved in any recent data breach.
It doesn't scan the dark web extensively. However, it cross-checks the data you input with recent reports and findings in its robust database.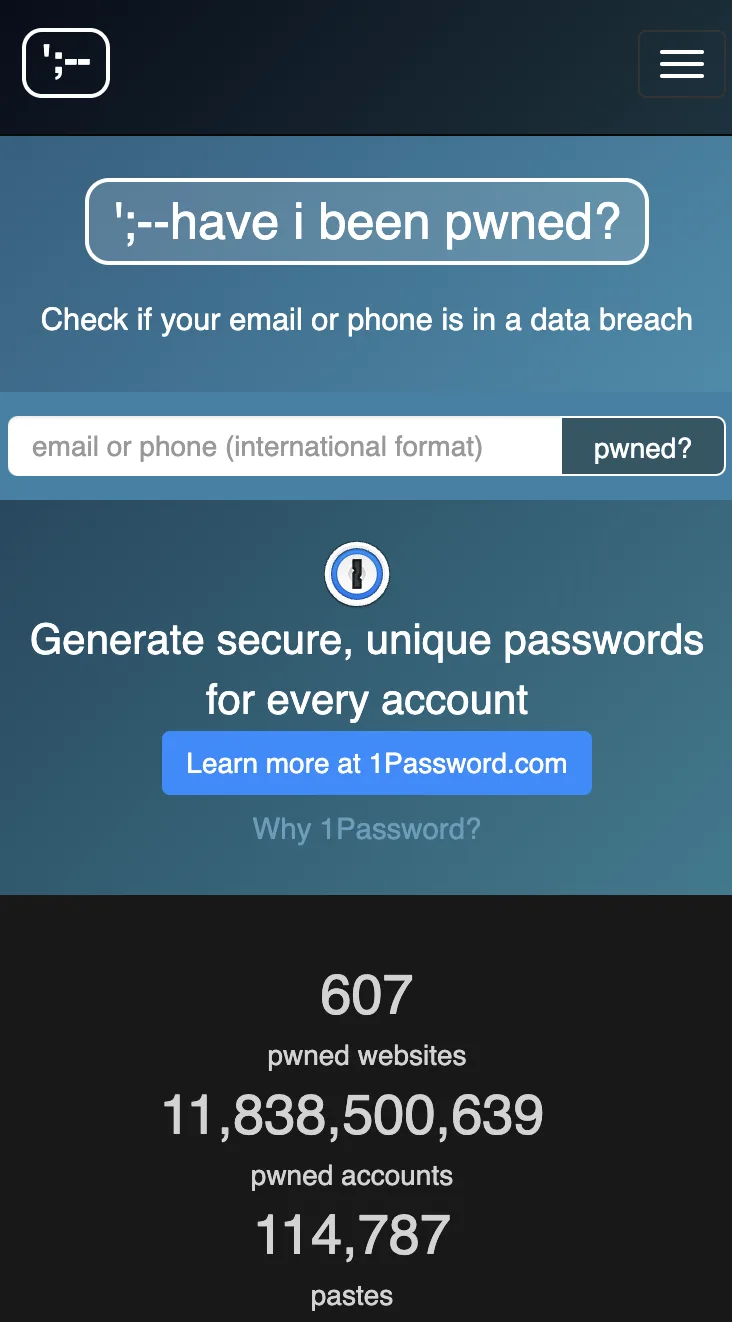 Note that Have I Been Pwned? only informs you of threats. It doesn't support or guide you through identity restoration, so you'll have to recover your PII yourself.
Overall, use it as a stepping stone to dark web monitoring. The platform generates reliable, accurate results, so you should definitely dig deeper if you turn up with a result.
PROS
100% free to use
Reliable and trusted platform
Has several helpful monitoring features
CONS
Very limited monitoring services
Doesn't scan the dark web in real time
No premium services
Key features of Have I Been Pwned?
Have I Been Pwned? offers the following features:
Email Notification: Register your email to receive notifications about potential threats and breaches moving forward.
Domain Search: Search your personal or business domain to see if hackers have been abusing it lately.
Password Checker: The platform tells you the exact number of times a password combination has been hacked before.
The features are pretty basic, but they're more than what you'd expect from a free service.
Have I Been Pwned? plans and pricing
Have I Been Pwned? is 100% free to use. It advertises 1Password if you want a more robust identity theft prevention platform, although it won't force you to upgrade.
CrowdStrike Falcon x Recon
Best for: Enterprise-level dark web monitoring services
CrowdStrike is a widely trusted cybersecurity company that offers intelligence reports, cyberattack response, and end-to-end security. George Kurtz, Dmitri Alperovitch, and Dmitri Alperovitch founded it in 2011.
You can use several of its products for identity theft. However, for this piece, we'll review its dark web monitoring service called Falcon x Recon.
PROS
Sophisticated dark web monitoring system
Real-time notifications
PII recovery support
CONS
Steep monthly rates
Add-on services cost extra
You can't utilize features intuitively
Key features of CrowdStrike Falcon x Recon?
The CrowdStrike Falcon x Recon plan offers the following features:
Extensive Web Coverage: CrowdStrike has sophisticated web crawlers that scan the surface, deep, and dark web for any unauthorized transactions involving your PII.
Real-Time Alerts: Expect incidental reports to arrive in real-time. The system endeavors to help you resolve identity theft threats as soon as possible.
Immediate Support: CrowdStrike Falcon x Recon+ has a 24/7 customer service team ready to support you if the system detects a potential threat.
Note that the extra features you get depend heavily on whether you execute the strategy yourself or not.
CrowdStrike Falcon x Recon plans and pricing
You can opt for the following packages:
| PLANS | DESCRIPTION |
| --- | --- |
| Falcon x Recon | Your security team can rely on Falcon x Recon for accurate dark web monitoring services. The system instantly alerts you if it catches any red flags. |
| Falcon x Recon+ | If you don't have an in-house security team, opt for the Falcon x Recon+ package. You'll have the support of a dedicated CrowdStrike specialist. |
You'll have to request a sample quote from a CrowdStrike agent. However, based on user reviews, most users pay around $6.99 to $17.99 per month.
You'll have to request a sample quote from a CrowdStrike agent. However, based on user reviews, most users pay around $6.99 to $17.99 per month.
LifeLock
Best for: Users who need extensive identity theft protection
Robert Maynard Jr. and Todd Davis launched LifeLock in 2005. It stands as one of the most widely known identity theft and credit monitoring service providers to date.
The company doesn't focus solely on dark web monitoring. However, it uses one of the most sophisticated web crawlers capable of crawling all levels of the internet.
If you want full-scale cybersecurity, LifeLock's your best bet.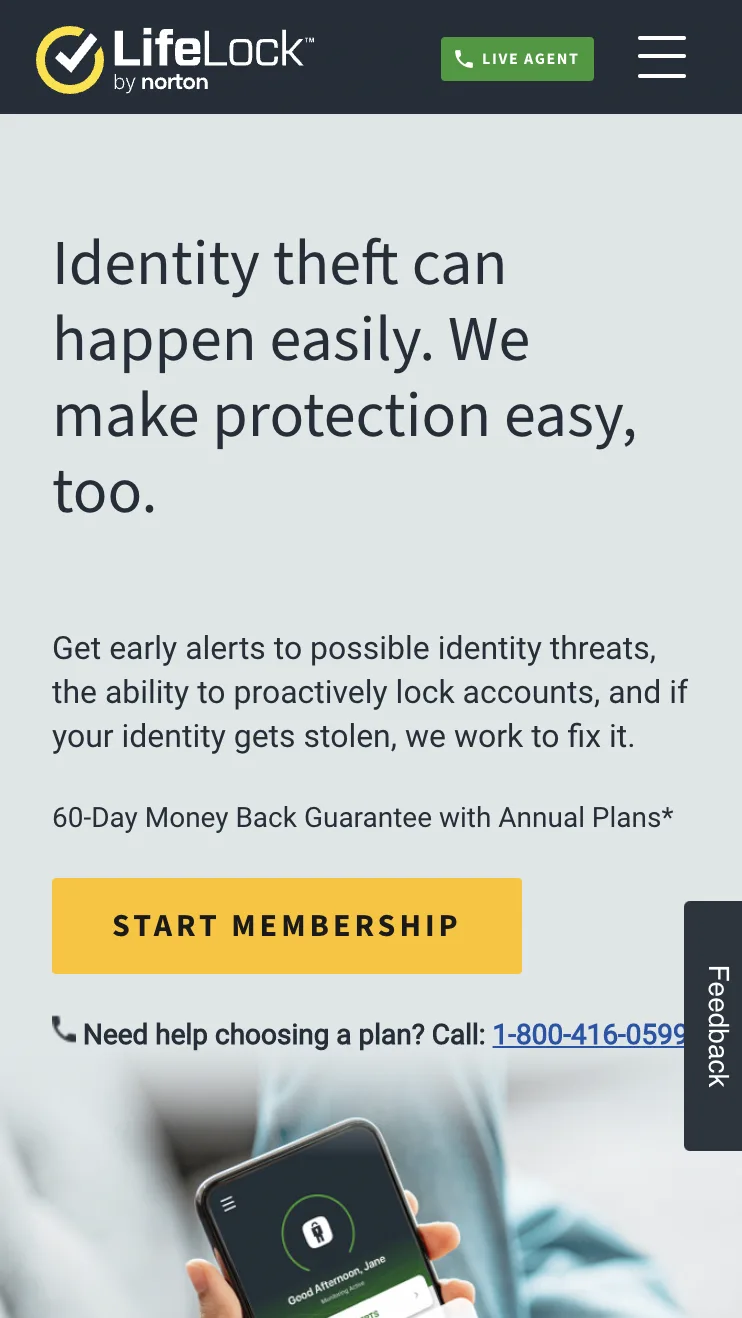 PROS
Full-service identity theft prevention system
Dedicated account manager supports you through identity restoration
Plans come with loss insurance
CONS
Steep monthly rates
Standard plan doesn't provide much value
Credit monitoring system isn't as sophisticated
Key features of LifeLock?
Based on our review, the following LifeLock features stood out the most:
Identity Theft Monitoring: LifeLock scans the dark web for mentions of your PII. It also monitors non-cybercrime-related documents like parking tickets, criminal records, and court orders.
Credit Report Tracking: The system will monitor any unusual financial transaction (i.e., loan application, credit card purchase) under your name.
Identity Restoration: LifeLock will support you in the event of identity theft. A dedicated case manager will guide you throughout the PII recovery and restoration process.
Check out LifeLock's website for the full list of features its plans offer.
LifeLock plans and pricing
LifeLock generally offers three straightforward pricing options:
| PLANS | DESCRIPTION |
| --- | --- |
| Standard | Get basic identity theft monitoring and $25,000 worth of coverage for just $7.50 a month. |
| Advantage | If you upgrade to an Advantage plan, you'll also get credit monitoring services, plus your insurance coverage increases to $100,000. It costs $14.99 a month. |
| Ultimate Plus | An Ultimate Plus plan costs $19.99 a month. It offers all the features we mentioned above, plus some add-on services like social media tracking and home title monitoring. Also, your insurance spikes to $1 million. |
Visit the site's plans and pricing page for the full breakdown of its fees.
1Password
Best for: Users who need a password manager and dark web monitoring tool
Roustem Karimov founded 1Password in 2005. Although it primarily focuses on password management services, it recently introduced dark web monitoring services.
Admittedly, its web crawlers aren't as sophisticated as what its competitors use. However, it accurately traces all mentions of your login credentials, plus it charges way less than other service providers.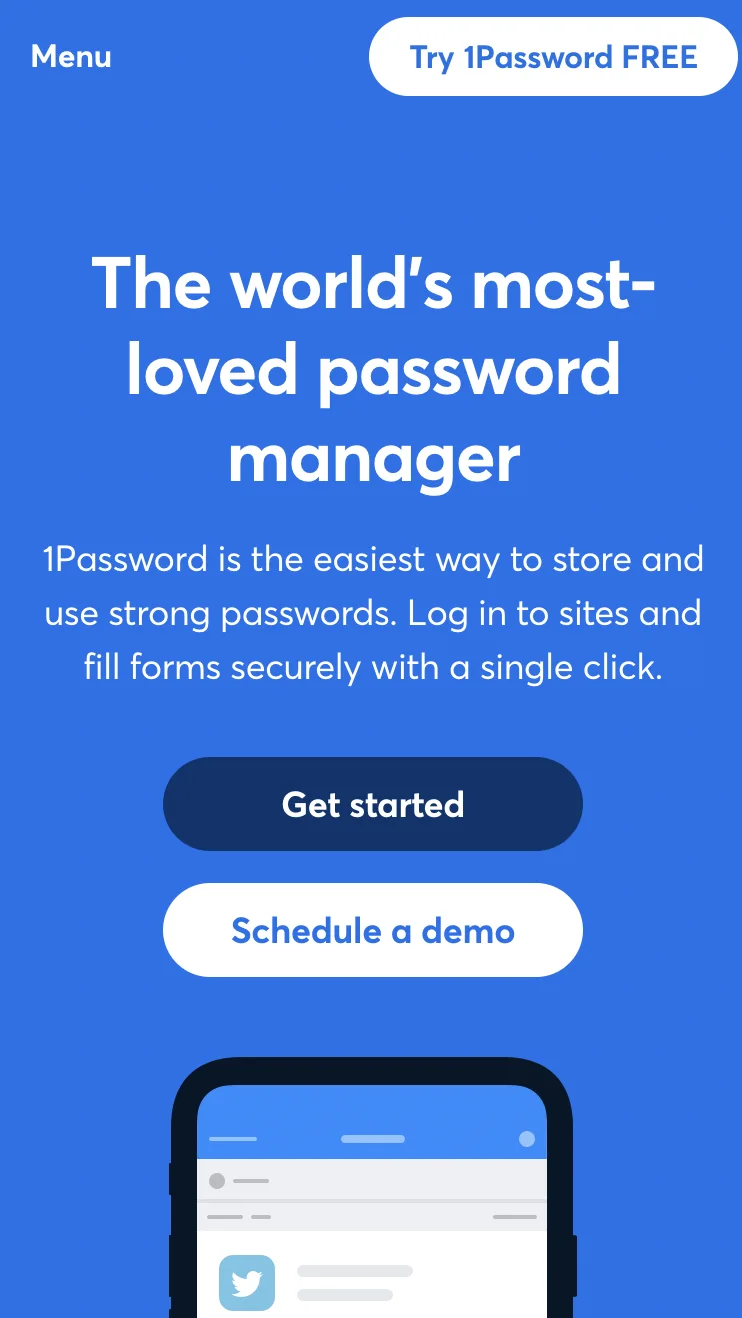 PROS
Affordable plans
Advanced password management
Zero-knowledge encryption
CONS
Only monitors dark web for passwords
Features revolve around password management
Minimal identity theft prevention tactics
Key features of 1Password?
1Password comes with the following features:
Password Management: All 1Password plans come with password management services. You can store passwords, categorize login credentials, grant account access to other users, and autofill login fields.
Zero-Knowledge Encryption: In a zero-trust, zero-knowledge encryption model, all encryption and decryption of your data transpire locally. Nobody sees your login credentials but you.
Dark Web Monitoring: 1Password monitors the dark web for listings or posts mentioning your passwords.
You can visit its website for more details on its encryption layers.
1Password plans and pricing
You can choose from the following personal and business plans:
| PLANS | DESCRIPTION |
| --- | --- |
| 1Password | Get all the password management features of 1Password for just $2.99 a month. |
| Families | The Families plan only costs $4.99 a month but accommodates five users, saving you up to $10 in fees. |
| Teams | SMBs can jumpstart their password management system with a Teams plan. It costs $19.95 a month for 10 users. |
| Business | Mid-sized enterprises exceeding 10 employees can invest in a Business plan. It costs $7.99 per user monthly, but you'll all get access to a 1Password Family plan. |
Sign up for a 14-day free trial so that you can test the platform yourself.
How dark web monitoring services work
Dark web monitoring tools scan the dark web for data relevant to your PII. In most cases, these services come as a bundle with credit building, identity theft prevention, and password management.
Note that the limitation of your tool depends on its purpose. A sophisticated, robust system paired with identity theft prevention scans thousands of websites and listings for anything under your identity.
Alternatively, less-extensive crawlers from password managers have limited features. Their scope typically ends after searching for any mentions of your saved login credentials.
How PII leaks to the dark web
PII typically leaks into the dark web because of hackers. They acquire sensitive information and PII through:
Phishing scams
Malware, ransomware, and spyware attacks
Brute-force hacking methods
Breaching a company's client database system
Tricking people into disclosing sensitive information
The best dark web monitoring services can help you combat identity theft. However, you'd do well to secure your information and prevent data breaches right from the get-go.
Why the dark web exists
The dark web by itself isn't illegal. The U.S. law doesn't prohibit citizens from using a Tor browser to access web pages that search engines don't index.
Again, the dark web simply serves as a tool. Although the general public associates it with illicit activities, many also maximize anonymity for generally positive purposes like:
Whistleblowing against their employers
Revealing political or corporate secrets
Browsing services privately for personal reasons
Remember: the dark web isn't illegal, but the crimes that transpire in it are.
A briefer on what happens if your PII is on the dark web
Nobody wants their PII to end up on the dark web. Let's face it—you'd rather "waste" a couple of bucks on identity theft monitoring every month than get an alert.
However, what if your worst fear happens. For the sake of this guide, let's discuss what happens if you receive a report saying your PII was found on the dark web.
Important: Before anything else, we want to emphasize that it's impossible to eliminate your leaked PII from the dark web completely. You can't even trace users that took note of your information.
With that said, instead of wasting resources trying to take down everything under your PII, you'd do well to report the incident to the necessary institutions. Freeze your credit cards, check your accounts, update your passwords, and file a police report.
Time is of the essence in preventing identity theft. Every second you waste gives criminals more time to misuse your PII.
How often should you scan the dark web for data breaches?
The best dark web monitoring service providers scan for data breaches every day. As we mentioned above, you have to act swiftly because criminals can steal thousands from your accounts with the press of a few buttons.
Are dark web monitoring services worth it?
Overall, dark web monitoring tools are a great investment. But that doesn't mean you should just throw your money at every offer that comes your way.
Before signing up for dark web surveillance, understand its limitations. The internet is a complex, intricate web that no single network can scan entirely, so don't solely entrust your security to dark web monitoring service providers.
Dark web monitoring should only make up a portion of your cybersecurity system. Follow other identity theft prevention tactics.
Also, note that dark web monitoring tools only send you warnings. You'll have to address the issues yourself.
Knowing that you have compromised PII is one thing, but minimizing the risk of hackers stealing your data is another.