Statistics show that most Americans own at least four credit cards, so it's not unusual to carry a couple everywhere you go. Your total credit limit might even add up to tens of thousands of dollars.
Credit cards are definitely convenient, but you likely know that there are risks that come with them.
Millions fall victim to financial identity theft annually. The Federal Trade Commission reports that Americans lost over $149 million to credit card fraud in 2020.
Of course, you don't want to give up your credit cards, especially if you're building your credit record. So, instead, you research credit protection companies specializing in credit monitoring and identity theft protection.
You'll find dozens of options online. Although it's convenient to have several choices, scrolling through credit protection service providers might make your head spin—especially if it's your first time.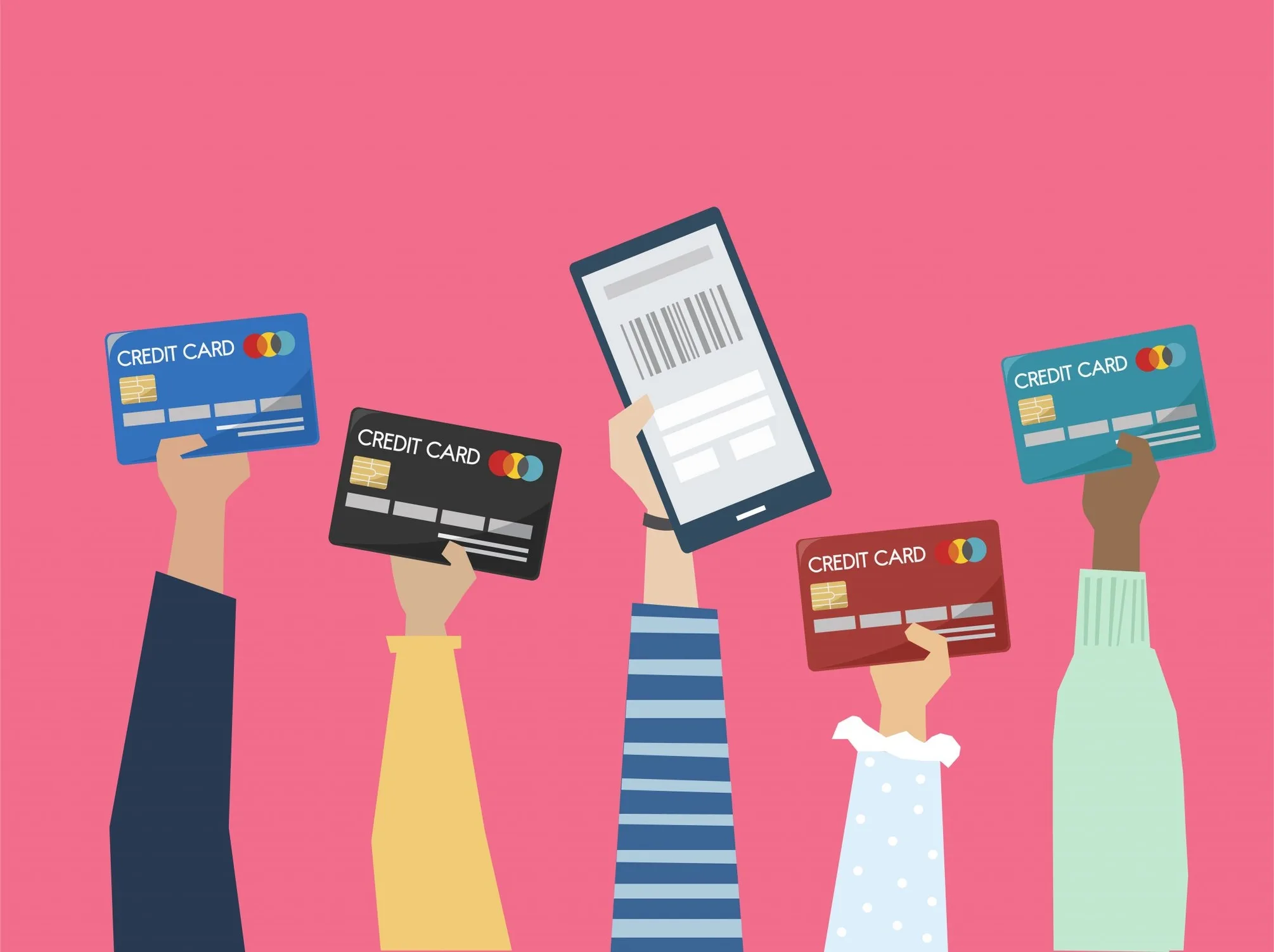 Let us help you jumpstart your research. As credit card users ourselves, we also want to find the most reliable credit protection companies to prevent financial identity theft.
So, we reviewed various sources and compared them with legit testimonials to gain first-hand insights. By the end of this piece, you'll know enough about credit report monitoring and identity theft protection to decide on a credit protection service provider.
Please read without skipping! We'll tell you the most crucial factor to consider before upgrading to a paid plan; otherwise, you'll waste your money on services that you don't need.
Let's dive into our comprehensive review of the best credit protection companies!
Top 6 credit protection companies
Many financial institutions offer in-house Credit Protect plans to their clients. A sales agent might have already called you about a relevant insurance policy, but you don't remember it.
The idea of credit protection likely interests you. However, you might not feel comfortable signing up for financial services that you don't wholly understand yet.
We think you made the right choice. And to help you reach an informed, objective decision about which credit protection company to trust, we curated a comprehensive comparative review of the top six most widely known options in the U.S.
1. Aura
BEST FOR: Users who want a straightforward, one-stop-shop solution
Hari Ravichandran founded Aura in 2019. Despite being a startup, it ranks among the most widely known and talked about credit protection companies today.
Based on the reviews we read, most people trust Aura for its comprehensive features. For instance, dozens of companies offer credit lock services, VPN, and credit monitoring, but only Aura bundles them all into one package.
How Aura works
Aura offers a plethora of features, and some that really stood out from the rest include:
Identity Theft Protection: Aura scans online and offline systems for unusual developments involving your identity. You can expect prompt notifications regarding court orders, criminal records, dark web listings, and fake online accounts.
Credit and Financial Fraud Protection: To prevent financial identity fraud, Aura automatically reports new credit score inquiries, loan applications, bank accounts, and credit cards under your name. You can request to freeze fraud accounts immediately.
VPN: Aura encourages users to turn on its VPN when surfing the web. It prevents cybercriminals from bypassing firewalls and peeking into your computer screens, which are quite common on public networks.
Aura Antivirus Software: Run Aura's antivirus program 24/7 to keep viruses, malware, and spyware from infiltrating your software.
Password Manager: The Aura app has a new password manager feature. Like LastPass, it lets you remember passwords on websites without saving them on third-party servers (i.e., browsers).
Aura constantly updates its features. You might notice some new additions that it didn't have as of writing.
Aura plans and packages
Aura offers three basic packages: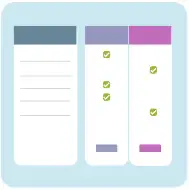 Individual Plan
It costs $12 per month, offers $1 million worth of identity theft insurance coverage, and can support up to 10 devices.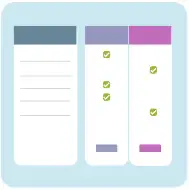 Couple Plan
The Couple plan accommodates two adults, costs $22 per month, offers $2 million worth of identity theft insurance coverage, and supports up to 20 devices.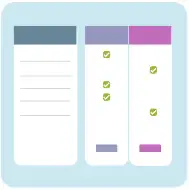 Family Plan
The Family plan accommodates five kids and adults. It costs $37 per month, offers $5 million worth of identity theft insurance coverage, and supports up to 50 devices. Only the Family plan offers Child SSN monitoring.
You can visit Aura's Plans page for a more in-depth breakdown of its services and pricing.
Aura reviews and testimonials
Aura primarily receives positive reviews online. It gets some complaints about its buggy app, but it releases updates and resolves them regularly.
Why we recommend Aura
We recommend Aura for its simplicity. It offers an out-of-the-box, user-friendly identity theft solution for the average working American.
2. LifeLock
BEST FOR: Users that need robust identity theft protection across multiple platforms
LifeLock stands as one of the longest-standing credit protection companies today. Robert Maynard Jr. and Todd Davis founded it in 2005.
The company primarily focuses on identity theft protection, and it has already served millions of U.S. citizens over the decades. However, we did find several controversies about it.
The good news is that the company seemed to improve its reputation after Norton bought its enterprise division from Symantec. It no longer executes absurd guerilla marketing tactics—which we'll also discuss
How LifeLock works
Some of the most notable features of LifeLock include the following:
Identity Threat Monitoring: LifeLock has a robust anti-identity theft prevention system. It scans court records, criminal records, and dark web marketplaces, among other resources, for any unusual activity involving your name. Clients will get notified promptly, 24/7.
Identity Restoration: LifeLock has a unique identity restoration service. If your identity is compromised, a certified case manager will guide you through the entire recovery process, from tracking unusual activities to reimbursing lost funds.
Credit Monitoring: You can rely on LifeLock to track credit reports for unusual purchases and credit applications.
Based on the listed features, LifeLock is specially designed for identity theft protection. Its credit monitoring and reporting services only serve as add-ons to its plans, so don't expect comprehensive offers.
LifeLock plans and packages
You'll generally have three LifeLock plans to choose from, including: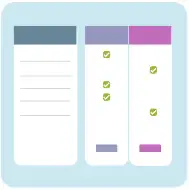 Standard Plan
A Standard plan only costs $7.50 per month. It offers the basic identity theft monitoring services, plus reimbursement for up to $25,000 worth of lost funds.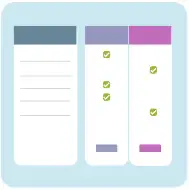 Advantage Plan
The Advantage plan costs $14.99 monthly. Yes, it costs nearly double the Standard plan, but it also comes with crime monitoring, regular credit reports, and fictitious identity monitoring. Also, you can reimburse up to $100,000 in stolen funds.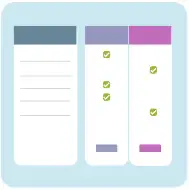 Ultimate Plus Plan
An Ultimate Plus plan costs $19.99 per month. Apart from the features found on Advantage and Standard, you'll also get bank account application alerts, home title activity reports, and social media monitoring. You can reimburse up to $1 million worth of stolen funds.
All the plans we mentioned come with $1 million worth of coverage for lawyers and specialists charges. Visit LifeLock's plans and pricing page for the full breakdown.
LifeLock reviews and testimonials
Almost every review about LifeLock will talk about its founder Todd Davis. He's notorious for posting his Social Security number (SSN) on the company's website and parading it on the sides of his vehicle.
He did this to prove the efficacy of LifeLock. Unfortunately, cybercriminals actually tried to steal his identity, and they did so successfully over 13 times.
Admittedly, this marketing style was not well-received. The public mocked LifeLock, although many found it impressive that Todd only had his identity stolen 13 times despite everyone knowing his full SSN.
Fortunately, Norton is proactively steering away from this branding. It overhauled the company website and ditched the controversial guerilla marketing tactics.
Why we recommend LifeLock
LifeLock has excellent identity theft prevention services. However, a Standard plan only offers the most basic features, which don't really differ from what other brands offer.
To utilize the company's full features, we highly recommend getting a LifeLock Advantage or Ultimate Plus account. An extra $7 to $9 per month is a small investment for 24/7 monitoring.
BEST FOR: Budget-savvy users looking for an affordable identity theft protection plan
When it comes to tenure, very few can stand up to Identity Guard. It was founded in 1996 by Intersections Inc., but it initially focused on offline identity theft monitoring involving credit bureaus, court orders, and criminal records.
It expanded into online monitoring after partnering with IBM Watson. However, the company truly bolstered its screening systems after being acquired by Aura and electing Hari Ravichandran to take over as the new CEO.
It's important to note, though, that Aura and Identity Guard are two separate entities. Although Hari Ravichandran utilizes similar systems, Identity Guard still focuses on different areas of specialties.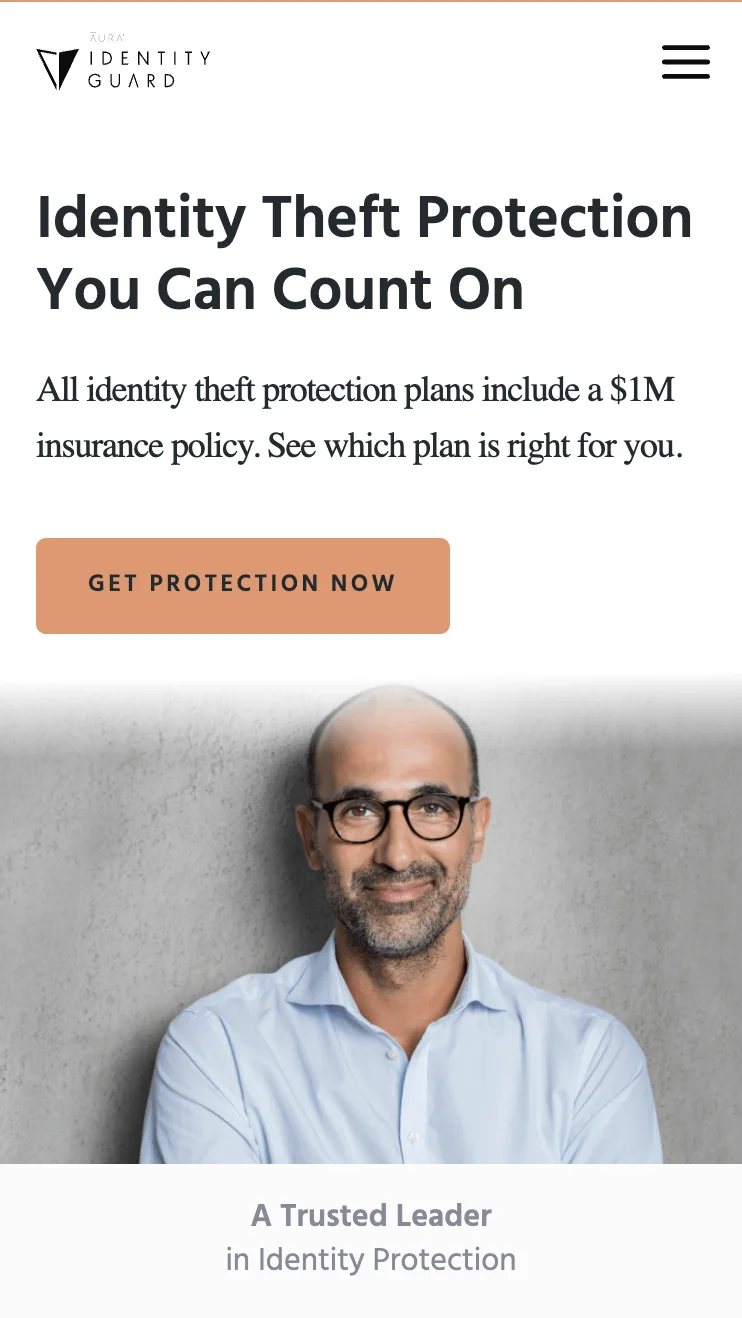 How Identity Guard
Identity Guard focuses on identity theft protection services, including:
IBM AI Screening: Identity Guard utilizes the latest AI screening technologies of IBM to monitor online and offline resources accurately. It can pinpoint any piece of information.
Case Manager Support: You'll get the support of a dedicated case manager if you ever fall victim to identity theft. Expect step-by-step support.
Dark Web Monitoring: The system regularly scans the dark web for any listing or transaction under your name.
Based on our research, Identity Guard focuses on identity theft. Although you can also subscribe for credit monitoring services, they're worth it since other brands offer the exact features for half the price.
Identity Guard plans and packages
You'll generally have three LifeLock plans to choose from, including: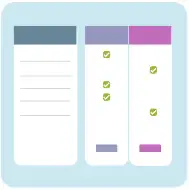 Value Plan
The Value plan only costs $7.20 a month. It monitors the dark web, criminal records, and court orders for unusual activities under your name.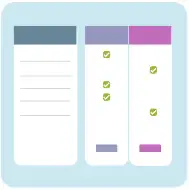 Total Plan
A Total plan costs $14.50 but has extra credit monitoring services and bank account takeover notifications.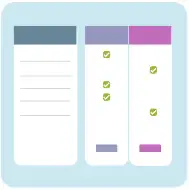 Ultra Plan
For $23.99, you can get the Ultra plan. Apart from the features of the Total and Value plans, it also monitors criminal offenses, home titles, credit bureau reports, and USPS address changes.
After reading several reviews, we think the Value plan offers the most bang for your buck, especially since all plans come with $1 million worth of reimbursable losses. You can check the plans and pricing page for more details.
Identity Guard reviews and testimonials
Most Identity Guard clients are long-time subscribers. Although other credit protection companies offer more robust features, they feel more comfortable with a tenured brand backed by decades of experience.
However, modern clients often opt for Identity Guard's sister company Aura. Although its identity theft prevention system isn't as sophisticated, it offers comprehensive, all-in-one packages.
Why we recommend Identity Guard
We recommend Identity Guard for its affordable identity theft protection plan. No other brand on this list offers the same robust screening system for the same monthly rates.
Also, you'll get $1 million in reimbursements. Other service providers need at least $15 per month for that much insurance coverage and protection.
The only thing we dislike about Identity Guard is its lack of credit monitoring. You'll have to pay three times more per month just to have the system scan your credit reports and bank account activity.
4. Credit Squad
BEST FOR: Users who want a simple, straightforward approach
Credit Squad is a relatively new credit protection company founded in 2019. It aims to set itself apart by providing more in-depth reports and extensive customer support.
The company even prides itself on the skilled specialists handling clients. We found that Credit Squad reports include year-over-year reports, plus you'll always have a trained case manager supporting you.
We'll talk about the system's features in more detail. However, if you prefer simple monitoring systems backed by real humans, then Credit Squad might be right up your alley.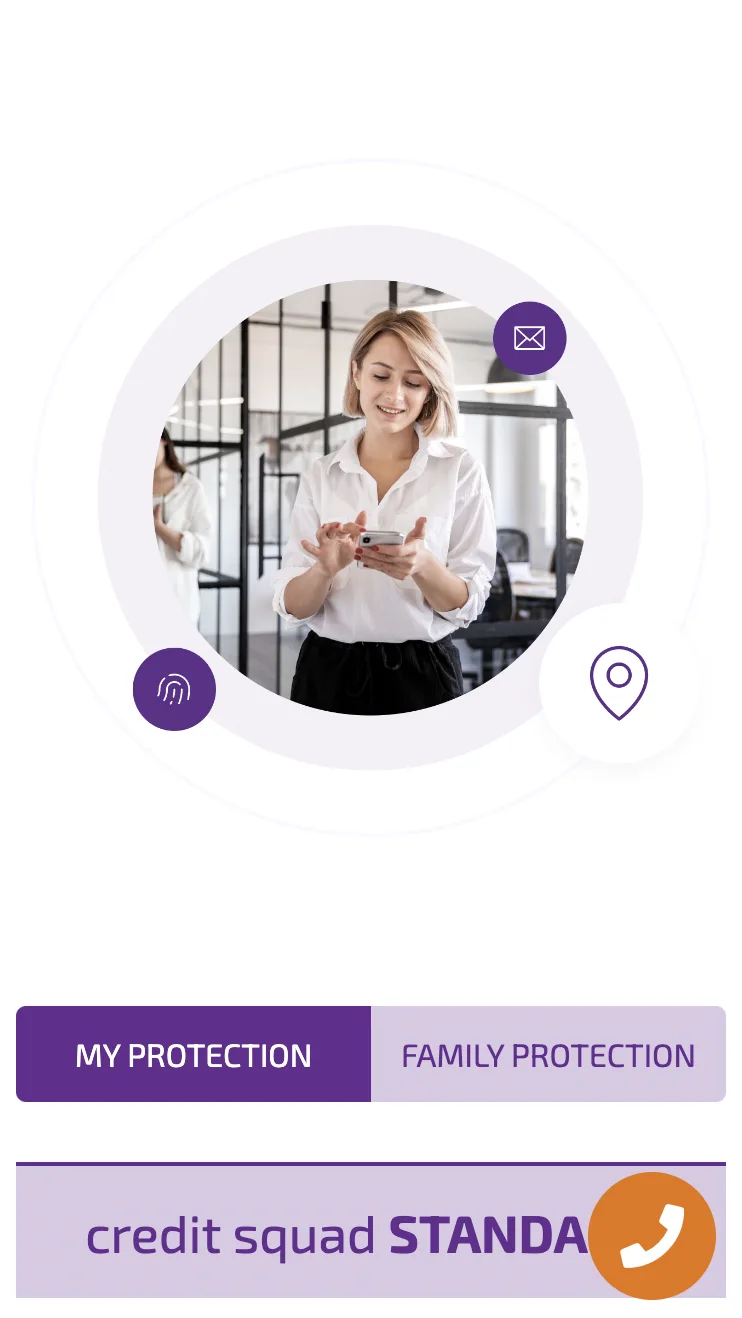 How Credit Squad works
Credit Squad clients can rely on the following features:
Credit Score Monitoring: The system tracks your credit scores 24/7 and reports unusual activities. Freeze unauthorized transactions right away.
Credit Reports: Credit Squad gives you all your credit reports for the past seven years. You'll have access to all the unpaid dues, delinquent accounts, and canceled credit cards under your name.
Case Manager Support: You can consult a legit case manager on how to improve your credit standing. After all, financial identity doesn't happen daily. The best way to use the yearly reports is to analyze them and flesh out the scores.
We found that Credit Squad doesn't offer too many fancy features because it focuses on quality over quantity. Again, it gives you in-depth year-over-year reports and step-by-step support.
Many other brands will offer more robust features, but we doubt that they'll compare to the sophistication and comprehensiveness of Credit Squad.
However, one downside is that it doesn't offer much in terms of identity theft. Yes, credit monitoring helps prevent financial fraud, but cybercriminals can attack you in several other ways.
Credit Squad plans and packages
You'll have three basic plans to choose from: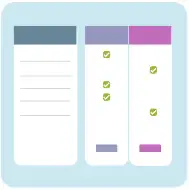 Standard Plan
The Standard plan costs $14.99 a month. It offers basic credit monitoring services, credit score tracking, and annual credit report assessments.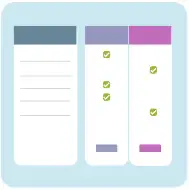 Complete Plan
The Complete plan costs $19.99. Apart from the features of a Standard plan, you'll also get account takeover warnings, ID restoration services, and basic identity theft monitoring. The system will start scanning online records for any information matching your PII.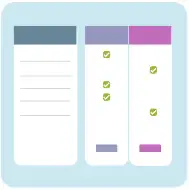 Elite Plan
The Elite plan costs $29.99 a month. It offers all the features of the Complete and Standard plans but pulls the credit reports from the three main credit bureaus: TransUnion, Experian, and Equifax.
We recommend either the Complete or Elite plan if you plan on upgrading. The Standard plan offers super-basic credit monitoring services, which you can do yourself by calling credit bureaus.
Also, the higher-tier plans come with insurance. You're already paying for credit protection services, so it wouldn't make sense to opt out of theft insurance coverage just to save a couple of bucks.
You compare the price breakdown yourself on the website's plans and pricing page.
Credit Squad reviews and testimonials
Since Credit Squad is fairly new, we didn't see too many helpful reviews. Most complaints involved its pricing, which was admittedly steeper than the other plans on this list.
Also, it doesn't offer much in terms of identity theft protection. Unless you have several credit card accounts and want to focus on improving your credit score, you won't need the super extensive reports.
Why we recommend Credit Squad
Admittedly, Credit Squad doesn't come with the bells and whistles that other brands do, but you might like the simplicity.
For instance, let's compare it to Aura. Although the system offers a comprehensive package, you can't wholly utilize it unless you have several credit cards, bank accounts, and massive digital footprints.
On the other hand, Credit Squad features a straightforward approach. It will monitor your credit reports and activities, then report them to you regularly.
4. ExtraCredit
BEST FOR: Debtors who want to build or restore their credit score
Credit.com recently unveiled its new credit monitoring and protection service, ExtraCredit. Although the feature is only a couple of years old, the company was founded in 1995 by Adam K. Levin.
We'll flesh out the features in the next sections. However, you'll notice right off the bat that the company primarily focuses on credit report monitoring, not identity theft.
It can help you prevent financial identity fraud. Just don't expect it to scan millions of online and offline records for all traces of your PII.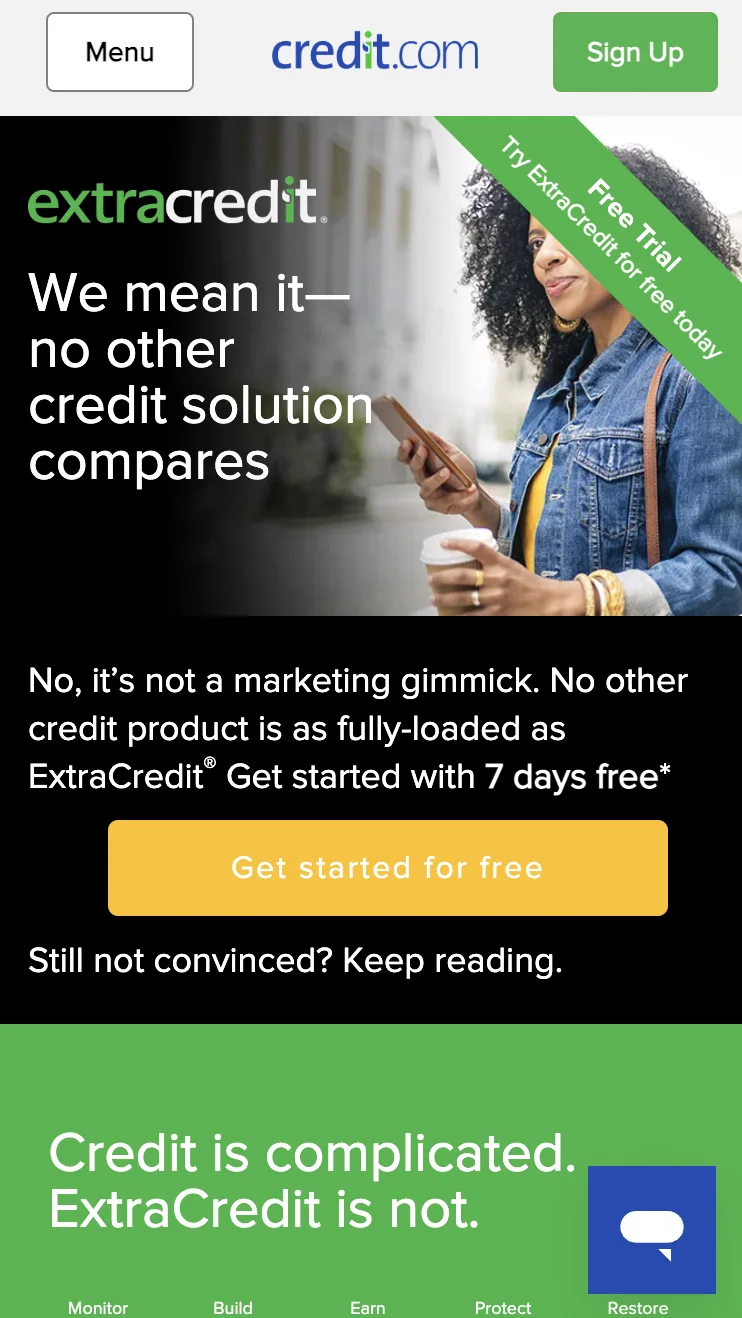 How ExtraCredit works
ExtraCredit offers the following features:
Identity Theft Protection: The system offers basic identity theft protection. It will scan the dark web for any listings or transactions using your PII.
Credit Profile Building: ExtraCredit boasts its credit profile building system. It claims that you can significantly increase your credit score and prepare for major financial purchases or loan applications.
Credit Score Tracking: Keep track of your credit score every month. Most people can increase their credit scores by at least 10 to 20 points after paying off all their outstanding dues.
Credit Score Restoration: You'll get an exclusive discount on one of ExtraCredit's partner credit repair specialists.
You can generally perform most of these tasks yourself. However, you'll save a lot of time and money if you let ExtraCredit pull your credit reports and financial records from various institutions.
ExtraCredit plans and packages
ExtraCredit bundles all its services into one package. You'll get all the features we mentioned above for $25 per month, although you can also take advantage of the free seven-day trial.
ExtraCredit reviews and testimonials
Users like that ExtraCredit helps them build their credit scores. However, we encountered several complaints about how it yields little to no credit and identity theft protection.
The company might add extra services since it's still new. But for now, you should consider other credit protection companies if you already have an excellent credit score and well-monitored reports.
Why we recommend ExtraCredit
We recommend ExtraCredit for debtors who want to build their credit score.
For instance, let's say you're a fresh graduate with a poor credit score due to student loans. The system can help you create a feasible strategy to build and establish your credit report as you pay off your dues.
Alternatively, you could be an office worker looking to recover from bankruptcy. Poor financial activities stay on your record for seven years, but you can already use that timeframe to make yourself more creditworthy again.
4. IdentityForce
BEST FOR: Users looking for comprehensive plans and updated services
IdentityForce first started operating as Stop-Loss Associates in the late '70s. It only rebranded to IdentityForce when Steven Bearak was elected the CEO in 2005.
The company's overall goal remained the same: to prevent identity theft. However, it overhauled its monitoring system to include emerging online threats, including phishing scams and dark web transactions.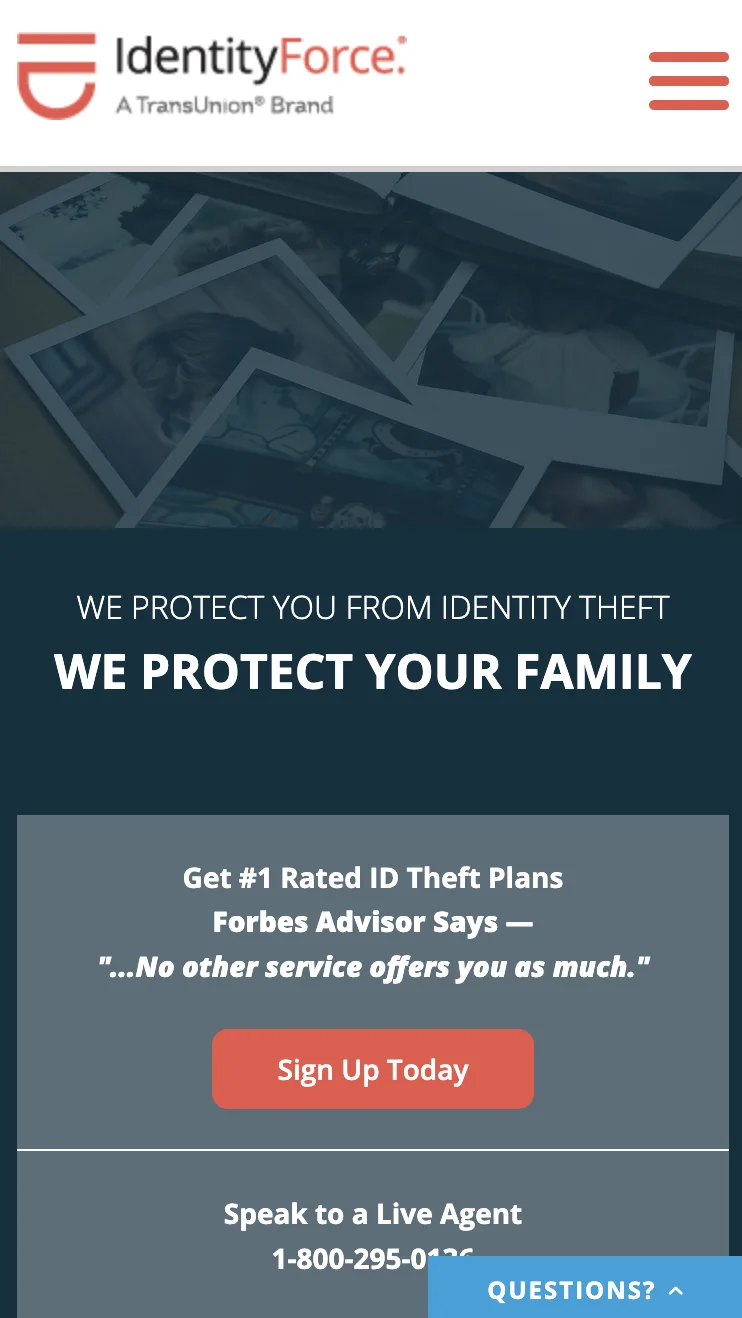 How IdentityForce works
Despite being one of the oldest companies on this list, IdentityForce also has the most updated features, which include:
Identity Theft Protection: The system has a 24-hour AI scanner going through criminal records, dark web listings, and court orders involving your PII. You'll get prompt notifications if it detects anything unusual.
Credit Monitoring: Keep track of your credit score fluctuations. A case manager will consult with you if the system notices a sudden score drop—indicating unusual banking activities.
Online PC Tools: IdentityForce equips its clients with tools to protect themselves online. Use the VPN to browse securely, calibrate the email filters to remove junk mail, and turn on scanners to track unusual social media profiles posing as you.
If you can't decide which features suit you best, sign up for a free trial plan first.
IdentityForce plans and packages
IdentityForce offers the following plans: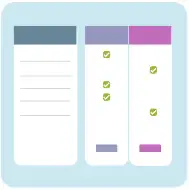 UltraSecure Plan
The UltraSecure plan costs $17.99 a month. It tracks all the transactions, loan applications, SSN usages, and account cancellations under your name. Also, you'll get its online PC tools. They'll help you track unusual social media activities from fake accounts using your image or name.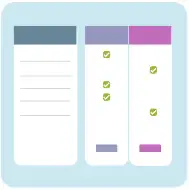 UltraSecure + Credit Plan
Apart from the features included in the UltraSecure, you'll also get advanced credit monitoring from the three main credit bureaus.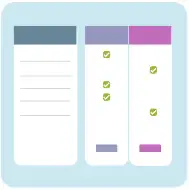 Childwatch Plan
Childwatch is a fairly recent addition by IdentityForce. The plan focuses on tracking the PII of minors, especially children below 12 years old. Remember: child identity fraud is very rampant. Most parents don't even realize that their kids' identities have been stolen until they first apply for a driver's license.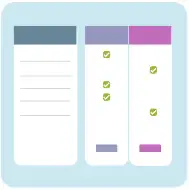 Business Plan
IdentityForce helps business owners keep track of their retail transactions, online payments, account statements, loan applications, and employee medical records, among other sensitive documents. It also assists with disputing chargebacks.
Visit the IdentityForce website's plans and pricing page to get a quote on its services. Sadly, it only publicly discloses the rates of its UltraSecure membership.
IdentityForce reviews and testimonials
Most IdentityForce clients are long-time users. They've been using its credit protection for several decades now, so they likely won't shift to another brand any time soon.
However, the company still draws the attention of younger clients. As we explained above, IdentityForce is one of the few credit protection companies that endeavors to add new services and features regularly.
Why we recommend IdentityForce
We recommend IdentityForce for its comprehensive services. It's a widely known credit protection company that utilizes one of the best AI systems on the market, so you should at least consider its plans.
Perhaps the only downside is it doesn't give you too many pricing options. Although each plan carries several features, U.S. citizens who don't have much financial data and info yet might find them excessive.
How credit protection services work
As we mentioned above, credit protection companies have different areas of specialties. For instance, Identity Guard focuses on monitoring signs of identity theft, while Aura endeavors to create a comprehensive, all-in-one solution for clients.
Also, some companies might use patented names for their services. You'll notice that Credit Squad calls its identity theft monitoring program Light Watch.
Going through the plans and offers might seem confusing for a first-timer, but don't worry.
Credit protection companies use different jargon. However, you'll get a better understanding of them by assessing the actual services they all offer, which include:
Credit Score Monitoring: Make sure to look into score drops. They could indicate financial dues or outstanding fees under your name—which you probably won't recognize.
Financial Activity Tracking: Your credit monitoring team will send you prompt updates if they trace someone applying for bank accounts, loans, or credit cards under your name.
Credit Report Analysis: You can ask your credit monitoring system to pull credit reports from your preferred credit bureaus every month or two. Make sure to look into any delinquent accounts you never knew you had.
Insurance Coverage and Protection: Most credit protection companies offer up to $1 million worth of insurance coverage and reimbursable losses. Some group plans can exceed $5 million.
PII Tracking: Identity theft prevention systems will report criminal records, court orders, dark web listings, and suspicious online activities that you don't know. You might get the help of a dedicated case manager as well.
These are the basic credit and identity theft monitoring services. Credit protection companies will boast their unique AI screening system or execute a more hands-on case management approach to provide more value.
However, we want to emphasize that they have the same services. Please don't fall victim to companies that trick clients into getting super-generic services through flowery words and marketing tactics.
Deciding whether you need credit protection services
You might think that $15 to $20 a month is a small price for credit protection. You probably spend more on coffee weekly, so you won't mind upgrading to a premium plan.
We think it's great that you want to start monitoring your credit. However, please don't blindly subscribe to credit and identity theft monitoring services without understanding them first.
You can actually do most credit monitoring activities yourself. The three main credit bureaus will give you a free report every 12 months, you can freeze accounts any time, plus most financial institutions will automatically alert you on unusual credit transactions.
Does this mean that you shouldn't pay for credit and identity theft monitoring? The answer: no.
Important Tip: The most crucial factor to consider before upgrading is if the credit protection company offers services you can't do yourself.
For instance, although bureaus will give you a free credit report per annum, pulling more frequently will cost you up to $13.50 each time. Meanwhile, credit protection companies can give you monthly reports and monitoring for much less.
The same thing applies to identity theft monitoring. Unless you have experience with cybersecurity, you likely won't have the resources to scan criminal records, court orders, and dark web listings for unsolicited activities using your PII.
We don't discourage paid plans. Just ensure that you know what you're paying for, or else you'll end up wasting your money on monitoring that doesn't really protect your identity.
Choosing the best credit protection company
Overall, work with a credit protection company that suits your financial needs. Remember: the services you need depend on your credit cards, spending habits, and digital footprints.
Don't blindly trust every free credit monitoring offer you get. Some cybercriminals disguise themselves as financial coaches to steal your PII, so limit yourself to the options we mentioned above for now.
Also, remember that credit protection services should only make up a portion of your identity theft prevention system. Safeguarding credit accounts requires several cybersecurity measures.
Apart from tracking unusual banking activities, stay vigilant against phishing websites, change your debit card PIN at least twice a year, and never share sensitive credit card information.